UPDATE: See most recent Brightest LED Headlight Bulbs.
When it comes to crowning the brightest LED headlight bulbs, there is really only one metric to consider, and that metric is Lumens. A lumen is a measurement of light output. The more lumens, the brighter the light. It's that simple.
Our Picks for the Brightest LED Headlight Bulbs
Many replacement headlight bulb companies will conveniently not mention what the light output in lumens is, likely because it undermines their marketing efforts. Most will talk about color temperature, and increased light output over stock, but lumens are rarely mentioned.
So, the lesson to be learned here is if you're looking for the brightest led headlight bulbs, (or any type of head light bulb for that matter), look for the lumens.
And the Winner of the Brightest LED Headlight Bulbs Competition Is…
Starnill 80W COB LED Headlight Conversion Kit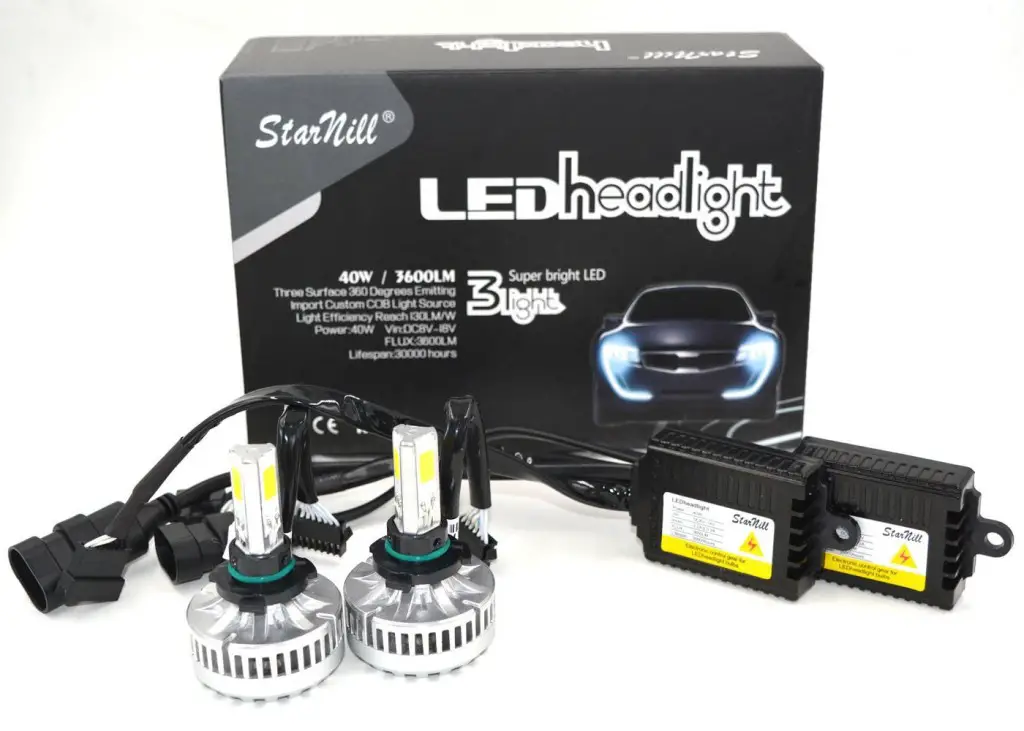 3600 Lumens Per LED Bulb
At 3600 Lumens per bulb (7200 Lumens total), this heavy weight takes the crown for being the brightest led headlight bulb available on the market today.
To put things in proper perspective, stock halogen headlight bulbs will emit somewhere in the range of 500 – 1700 lumens per bulb. That may seem like a big (safe) range for us to claim, but there are many variables that contribute to those numbers, and not all bulbs are created equal. Regardless, it's clear that from a light output perspective, LED headlights are far superior to a standard halogen headlight bulb.
Important Stats for the Starnill 80 Watt:
Price: $75.68
Lumens: 3600/bulb or 7200 total
Expected Service Life: 30,000 hours
Power: 40 watts per bulb (80 watts for the set)
Color Temperature: 6000K (this is the ideal color for most. It's a nice white color, that is crisp and clean, while giving the slightest hint of blue.)
Viewing Angle: LED lights emitting from three sides giving it a 360 degrees of light output
Installation: Plug and play. No cutting wires.
Color Temperature
As it relates, to color temperature, I know that for most, this is an important part of your decision when buying new headlights, LED, HID or otherwise. Starnill claims a 6000K color temperature, which is basically white. It's not yellow, it's not blue, it's right in between.
Here's an image of the Starnill 80W LED headlights installed in a Toyota 4 Runner:
What's in the Box?
As is shown in the picture above, these bulbs come complete with ballasts. These ballasts have two connectors. One connects to the bulb, an the other connects to the stock connector on your vehicle. It's really that simple to install. I suggest finding a way to secure the ballasts so they're not moving around while you're driving. The ballast comes with a small hole so you can find a secure the ballast to the car with a screw.
Heat Dissipation
The bulbs come with a built in fan for heat dissipation. The fan is effective, and does not product enough noise to worry about.
It's powerful, it's easy to install, and it's incredibly bright. This LED headlight bulb wins our competition of the brightest led headlight bulb.
Brightest LED Headlight Bulb Runner Up: A Close Second Place
OPT7 LED Headlight Bulbs w/ Clear Arc-Beam Kit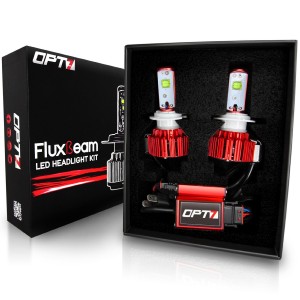 Price: $99.99
Lumens: 3500/bulb or 7000 total
Expected Service Life: 50,000 hours
Color Temperature: 6000K
Installation: Plug and play
While the Opt7 led headlight bulb is not quite as bright as the Starnill (3500 lumens vs 3600) we couldn't crown Starnill the winner without at least mentioning the Opt7. Opt7 is one of the frontrunners in the LED headlight world. They build one of the highest quality and best selling headlight bulbs on the market today.
Quality & a 50,000 Hour Service Life
One major difference is that of quality. One major difference that you'll notice is that of expected service life. Most LED headlight bulbs on the market today claim an expected service life of 30,000 hours. Opt7 touts a service life of 50,000 hours.
In addition, the Opt7 tends to have fewer quality issues than any other bulb. Many LED headlight bulbs have issues with one or more of the LEDs on the bulb not working, or flickering. The Opt 7 bulb very rarely experiences those issues. In fact, on Amazon, this bulb currently has over 1,000 reviews, with an average star rating of 4.5.
How to Install LED Headlight Bulbs
Installing LED headlight bulbs is a very simple process. It does not require that you cut any wires or modify any of your stock equipment. If you ever decide you want to go back to your stock headlight bulbs, you can, with no extra work.
Here is how you remove your stock headlight bulbs, and replace them with your new LED headlight bulbs:
Step1: Disconnect your battery. This is a safety issue. Whenever you're messing around with the systems in your vehicle, it's best to disconnect your battery first.
Step 2: Remove your stock headlight bulbs. This step will differ depending on your vehicle. The best way to approach this is to do a quick search on YouTube to find a video that will walk you through this process. It's not hard, but it will take any guess work out of it. Although the exact steps will differ from car to car, here's what it will take to remove your stock headlights:
Locate the back of the headlight assembly
Locate the headlight bulb plug and remove it
Remove the weather shield
Remove the headlight
Step 3: Install your new LED headlight bulbs. Pay attention to the way that the stock headlights came out, and install the led bulbs the same way.
Step 4: Repeat steps 1 and 2 in reverse order to reassemble everything.
You can do this! On a difficulty scale of 1-10, this is a 1. It's about as easy as it gets.