4 Best Replacement Headlights:
#1 – Philips X-treme Vision – High-Performance
#2 – SYLVANIA XtraVision – Mid-Performance
#3 – Philips Standard Halogen – Standard
#4 – Kensun Xenon HID – HID
Nothing lasts forever. This is especially true for headlight bulbs. The best kinds last three years of regular use at the longest. If you notice your headlights fading, don't wait for the exact moment that they die out before going to find a replacement. You never know when you might need to change your headlights, and there's no harm in being prepared with a set of spare bulbs.
But let's face it, buying replacement bulbs from your car manufacturer can be quite expensive. It might even get to a point where you're spending so much you wish you could just buy a new car (okay, maybe we're exaggerating there a bit). So, you make the decision to buy a bulb from a third-party manufacturer. This brings the question: What are the best replacement headlights out there?
There are thousands of kinds and brands to choose from when it comes to headlight bulbs from independent manufacturers. We've already gone through the entire grueling process of researching all about headlights. This complete buyer's guide was made to help you make your choice.
Let's start by telling you our top choices for the best replacement headlights.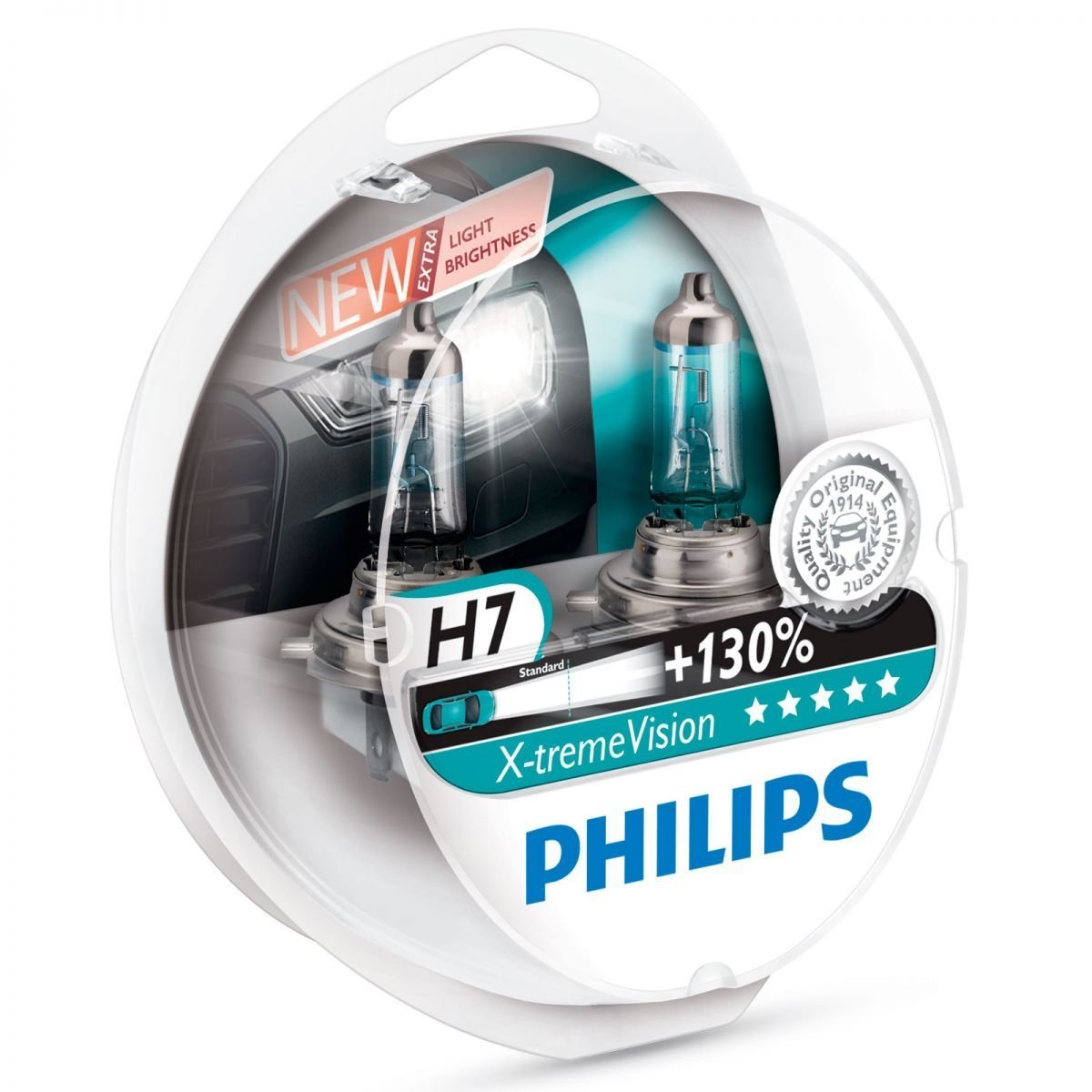 Bulb Type: Halogen
Amazon Rating: 4.1 out of 5 stars
Color Temperature: 3700K
Estimated Lifespan: 450 hours
Wattage: 55 Watts
The Philips X-treme Vision +130 offers the maximum performance for a halogen light bulb at 130% brighter light compared to standard bulbs. If you don't mind sacrificing the lifespan of a bulb for some extra brightness, then this is the best replacement headlight bulb for you.
It has a clean white light look, which is brighter than the standard halogen light bulbs out there. Some users even claim that the headlight looks like an LED-type, even though it is a halogen bulb, because of its extreme brightness. According to one user, the light really looks like a 5000K bulb.
This is emphasized in the advertising of Philips X-treme Vision +130. They claim to give a performance and brightness that is comparable to LED bulbs or HID bulbs without the need for conversion, which can be a messy hassle and process. The main drawback is that it lasts significantly shorter than the other bulbs on this list, at 450 hours.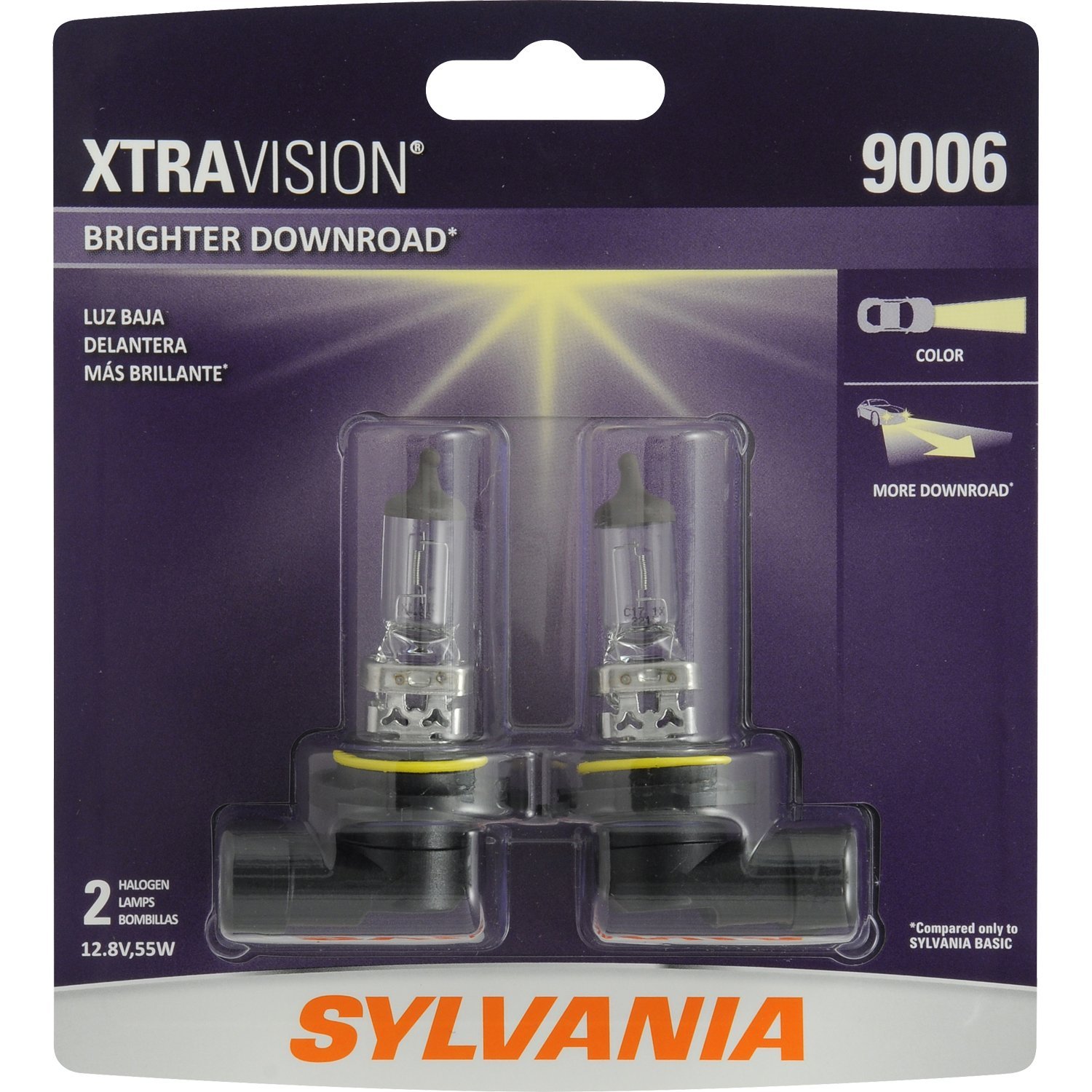 Bulb Type: Halogen
Amazon Rating: 4.0 out of 5 stars
Color: Standard
Estimated Lifespan: 850 hours
Wattage: 50 Watts
Fans of the Sylvania XtraVision say that the bulb is a great compromise for bulbs that have a decent brightness and a long life span. Some even said that some headlights' standard pure white appearance is too bright and almost blind, so they prefer something dimmer.
Intensely bright light, according to them, actually impairs depth perception, especially at night, making vehicles with similar lighting more prone to accidents on the road. As with standard halogen bulbs, its light was a warm tone, kind of like white with a yellowish tinge.
The installation process for this model was also a breeze, claimed some users. Our overall impression is that if you want ease and comfort in the whole process of replacing your headlight bulbs, Sylvania 9006 XtraVision is the best option for you.
The incredibly long lifespan of 850 hours also means that you won't have to worry about replacing your headlight bulbs again anytime soon.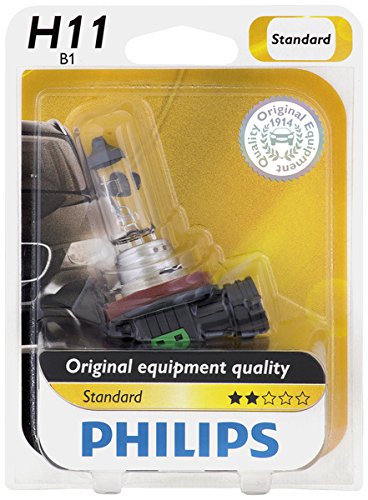 Bulb Type: Halogen
Amazon Rating: 4.2 out of 5 stars
Color: Standard
Estimated Lifespan: Not stated
Wattage: 55 Watts
Philips claims that this model is the entry point for their extensive collection of automotive lighting. This bulb is in the standard range and is marked as having an Original Equipment Quality, meaning it's almost as if you bought it straight from your car manufacturer.
This is the standard meaning. It will probably be the most average in the whole list here, but this does not make it lower in quality. In fact, it being the standard means that its quality is high enough to label it with such a defining characteristic as the "standard."
Our judgment: If you're not sure about anything and are ready to gamble with your preferences, this is the safest choice for you. Make sure it fits your specific car model, and you should be good to go.
Bulb Type: High-Intensity Discharge (HID)
Amazon Rating: 4.2 out of 5 stars
Color Temperature: 6000K
Estimated Lifespan: roughly 10 times longer than halogen bulbs
Wattage: 35 Watts
This is an HID bulb, which means that before you purchase this, make sure you've already converted your headlight system into an HID one. If not, then you should be looking at HID conversion kits and not this page.
This product has the lowest watts among the items in this list, but this is normal since HID bulbs need fewer watts for brighter light output than halogen bulbs. The great thing about HID bulbs is that they offer the broadest available color spectrum out of all types of bulbs. If you want variety in a bulb's color temperature, converting to HID may be best.
However, as stated above, the conversion process can be a bit tricky, and you may need some professional help (or at least someone who has experienced converting to HID before). If you don't mind the trouble, go for it.
This particular product is in the 6000K range, meaning its bright white with the slightest tinge of blue. For most HID fans, this is the optimum color temperature, as anything higher will cause problems at night, while anything lower ceases the potential of HID bulbs.
Considerations for Choosing a Headlight
There is no one single perfect replacement headlight in existence. Your judgment of the performance of a particular brand and type of headlight depends on a multitude of factors, arguably the most important of which is your personal preference in the type of headlight you want your car to have.
The Cost-Quality Trade-Off
As savvy consumers, we all want to reduce the cost of our products. However, in the process of cost-cutting, we tend to forget that there is a trade-off when we choose to buy cheaper but lower quality products than more expensive but higher quality products. The same holds true when looking for the best replacement headlight bulbs.
Let's do a little math to give you an idea of the usual cost of two pieces of headlight bulbs. In the list we provided above, the most expensive is the Philips X-treme Vision Headlight Bulbs at $24.95, while the most affordable is the Philips H7 Standard Halogen Headlight Bulb at $15.76 ($7.88 each).
In contrast, replacing your headlight bulb through your car dealer can range from free (some dealers cover headlight replacement under warranty, but you'll be lucky to find dealers who still do this) to a range of $30 up to $70. We have no clue what causes this whopping disparity, but even at its price floor, buying replacement headlights on your own is undoubtedly cheaper most times.
As expected, there were a lot more complaints based on customer reviews for the cheaper choices than the pricier ones. This is just proof that in the context of replacement headlights, at the very least, you get what you pay for. In the end, it depends on whether you want to gamble with a low-cost but probably lower quality bulb or go for the costlier but higher-quality one. As we've said before, it all depends on your personal preference.
Performance: Brightness or Longevity?
Brightness and longevity (how long a bulb actually lasts) are both markers of the quality of the performance of headlight bulbs. Of course, we all want our headlights to be bright. They're lights, after all. But are we willing to trade-off a high degree of brightness for longer bulb life?
The brightness of lights takes a toll on their bulb life. The brighter the light bulb, the shorter its life span. Even the best headlight bulbs suffer from burnout; no bulbs last forever. The common rate of the brightness-longevity trade-off scale is this: The brightest bulbs that are still legal to be used on the road last for an average of one year, while the dimmest bulbs that are not too dim to be useless at night last about three years.
For some drivers, the brighter the bulb, the better the quality. They also say that dimmer bulbs make them weary about driving at night because they can hardly see a thing. Others argue that changing bulbs every year is just too big of a hassle, and they settle with dimmer bulbs as they are still helpful, even at night.
As with the above-cited trade-off, the choice between longevity and brightness rests on your personal inclination. Would you rather have a brighter bulb that you'll have to change as often as every year, or would you be content with a dimmer bulb that you won't have to worry about for the next three years or so? The decision is yours.
What Makes a Good Replacement Headlight?
Headlights come in all colors and sizes. This makes it a little bit difficult to find a headlight that fits both your preferences and your car's dimensions. Not all headlights work in the same way for all cars.
Some kinds of headlights work magnificently in certain types of cars but terribly in others. This is why we believe that the best replacement headlight bulbs are those which provide a wide array of colors, sizes, and types to choose from.
Size
­There is no single size for headlight bulbs. The best replacement headlights are those which are produced in a variety of sizes. Finding the right-sized bulb for your car can be a breeze (if you have a common size) or a disaster (if your car has an unusual size).
Luckily though, by opting to buy your headlight bulbs from established manufacturers, i.e., mainstream brands, you can almost be sure that they will have bulbs for even the most uncommon car sizes.
Color Temperature
Color is another vital consideration. The default bulb in most cars is the halogen light bulb. This is great, but compared to other types of bulbs, this does not go anywhere near in terms of brightness and color variation. The standard color temperature for halogen bulbs would be anywhere between 3200K and 3700K. If you have no idea what K even means, here is a brief background.
K is the unit of measurement when talking about the color temperature of headlight bulbs. It stands for Kelvin and is based roughly on the actual temperature scale of Kelvin (a less popular alternative to Celsius and Fahrenheit). This means that the lower the temperature, the warmer it is, and vice versa for cooler color temperatures. Here is a simplified Kelvin color temperature scale:
3000K = Yellow
4300K = Bright white with yellow tinge
5000K = Pure white
6000K = Bright white (slight blue)
8000K = White with blue tinge
10000K = Light blue
12000K = Blue
15000K = Darker Blue (slightly near violet)
20000K = Blue indigo
30000K = Indigo
It should be noted that the above scale is by no means comprehensive, firstly because the color is a matter of subjective perception. Other factors may also be at play, such as the natural colors of the environment and color tints on the inside cover of bulbs. These are all relevant information that should be considered when choosing the color of your replacement headlight bulb.
Although the standard temperature for halogen bulbs is around 3500K, some extra-bright halogen bulbs imitate the appearance of a pure white bulb or a 5000K color temperature bulb, which is most easily achieved by High-Intensity Discharge (HID) bulbs and Light Emitting Diode (LED) bulbs.
However, these types of bulbs tend to be more expensive and require a conversion process. In other words, you can't just install HID bulbs in your halogen bulb-compatible car unless you want to ruin your car's headlight system, that is.
HID Conversion Kits are a whole different topic and will not be dealt with here. But there are tons of resources out there that can help you decide whether or not converting to HID is right for you. If you want bluish bulbs, then HID is definitely the go-to choice. It's the most capable of reaching that effect.
Wattage
Remove all the fancy words and terminologies you've just read here, and at the end of the day, you'll have the wattage question. If you want more power, if you want something brighter, you're going to need to find something with more watts. The products we've included here are from a small range of wattage to simplify your selection process.
The lowest is 35 Watts and the highest at 55 Watts. If you want something even brighter than that, the simplest thing to do would be to increase the wattage. Remember, though, that not all color temperatures are legal. You can't go around driving with a super-bright and blinding headlight that endangers the welfare of the other vehicles and drivers around you. You can also go as bright as the law will allow you to go.
Best replacement headlights: Conclusion
We hope this guide has made your mind at least a little bit clearer on what type of replacement headlight you want to buy. At the end of the day — and yes, we keep repeating this over and over again because this is really true. The choice is up to you. Your final decision should be a reflection of your personal preferences and should not be based on anything you have read here or anywhere (except the legal and illegal part., That's very important).
The list of best replacement headlights we created above is by no means a comprehensive list. It is not meant to become a be-all and end-all list. The best it could be to serve as a guide or as a starting point for your quest to find the perfect replacement headlight that fits your car's specifics and personal preferences.