Most vehicles are equipped with halogen headlight bulbs from the factory. They're relatively inexpensive to manufacture and they get the job done. However, in the last few year, auto manufacturers have begun equipping their vehicles with LED headlights, and the aftermarket is exploding with plug-and-play LED headlight conversion kits.
We decided to put LED headlights up against the tried and true halogen headlights and see what happens. You might be surprised.
Halogen Headlights
If you open up 90% of headlights of cars on the road today, you will find a halogen headlight bulb. The technology is not new, but has been refined as much as possible to where it is today.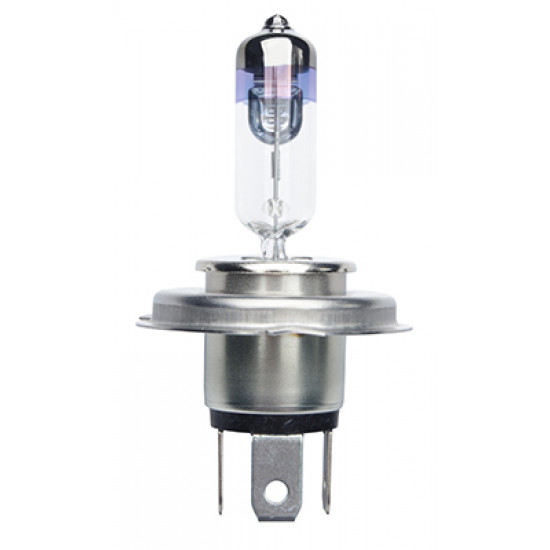 Halogen lights are a form of incandescent light bulb making use of a tungsten filament with a small amount of halogen gas. Most conventional light bulbs just make use of argon. The added halogen gas allows for evaporated tungsten to be redeposited onto the filament, allowing for longer lasting bulbs. Alternatively, the bulbs' brightness can be increased for the same lifespan.
When a current is passed through the filament, it heats up, and because it gets white hot, it starts to emit light. This is why halogen light bulbs are so hot to the touch. One problem with this is that a lot of the energy they emit is as heat.
A bulb's ability to emit light relative to its power draw is referred to as its luminous efficiency. That looks at the amount of power emitted as light, compared to the amount of electrical power drawn. Halogen light bulbs have a luminous efficiency of only 2% – 4%.
For many countries, the power of their headlamps is limited from a legal perspective. Usually in the 50W – 60W range. This rating is based on the amount of power the light draws. As such any improvements to a light bulb's luminous efficiency allows for a brighter light. This is one of the reasons LED and HID bulbs can be much brighter than halogens as they are more than 10 times more efficient than halogens.
Halogen's redeeming features are its simplicity and its cost. Unlike HID and LED setups, there's no fancy electronics required to keep the bulbs happy, it's just straight wires connecting everything. If the bulb stops working, it's because the filament is damaged. This simplicity helps keep its cost low.
For all the amazing benefits of HID and LED bulbs, halogens get the job done for a fraction of the price.
To provide you some reference for halogen bulbs, we've listed two products that fall into the high performance headlight bulb category. The products are from two of the leading international brands and are fairly indicative of the market. Prices and specifications for both products is based on the H7 size light bulb.
Sylvania is the US brand of international giant Osram. They make all kinds of lights, and supply products to car manufacturers as an original equipment manufacturer (OEM). They have a good name when it comes to this business and their products fare well.
The SilverStar Ultra is at the top of Sylvania's halogen lineup and advertises itself as being the brightest headlight with the most down road visibility, in their range.
A pair of Sylvania's will set you back $28. They're only rated to give 200 hours of life backed by a 1-year warranty. The lights are bright and white though, with each bulb drawing 55W and putting out a fairly white 4,100K light.
Customer reviews are pretty standard for the market, with a 3.8-star rating and majority of complaints being about the short lifespan of the product.
Philips are also an OEM with a big name internationally. Known for their high quality products, the X-treme Vision is their leading halogen bulb product. Much like Sylvania, they offer a range of halogen and other light bulbs across markets. The X-treme Vision is advertised as being 130% brighter than their standard bulb, which offers a light beam up to 45m farther along the road.
Also backed by a 1-year warranty, Philips's product claims a 320 hour lifespan. With a cost of just $24 for a set they're a pretty good bet when compared to the SilverStars. This is supported by a 55W power draw, although a much yellower output at only 3,700K.
The Philips bulbs is cheaper than the Sylvania, it has a longer lifespan and a better customer rating (4.1-stars). The Philips does have a yellower light than the Sylvania, which is mentioned by customers. Customers also complained about the short lifespan experienced.
LED Headlights
LED Headlights work in a completely different fashion to halogen bulbs. Unlike halogens that have a filament, LEDs operate by transferring current through a semi-conductor. This movement of electronics through a semi-conductor emits photons, resulting in light.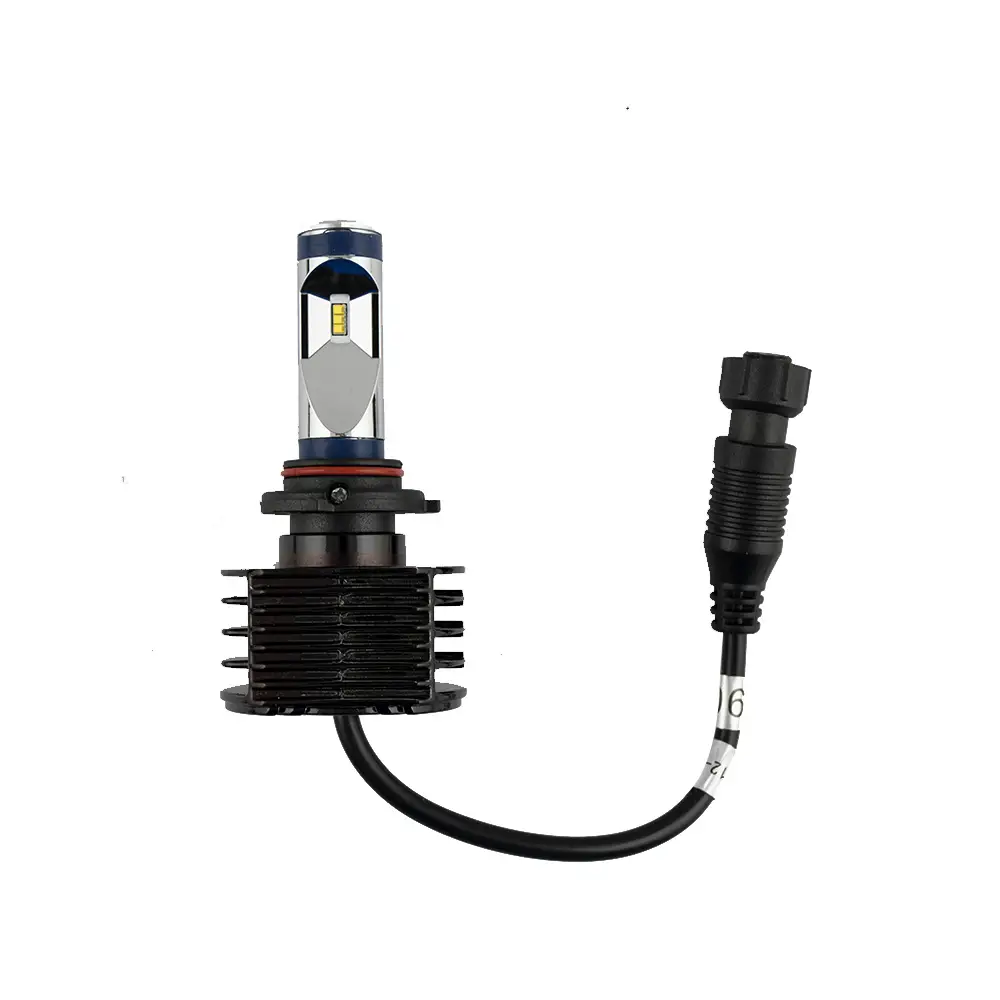 As mentioned earlier, LEDs are far more efficient than halogen lights. Although they do generate some heat, it is nowhere near as much as halogens. In a similar manner to halogens though, lifespan is related to the constant operating temperature of the lamps. By keeping the operating temperature of the LEDs in a reasonable zone, they can run indefinitely, thus manufacturers promise 20,000+ hour operating times.
To keep the LED's cool, they require extra heat sinks and fans. This makes the lights physically larger than a halogen light bulb, occasionally causing problems when trying to fit in conventional halogen designed headlight housings.
Another benefit of how LEDs function is that to get a whiter light, the physical properties of the semi-conductor can be changed to alter the color, as opposed to halogens which require a hotter burning filament to achieve the same result.
LEDs also operate at a lower voltage than halogens. This along with newer communications systems in cars (like CAN bus) often require extra electronics for correct functioning. The cooling system also needs electronics to monitor and control the fans. This adds bulk, complexity and cost to LED systems.
Much like the halogens, we've listed two of the leading products below along with some details about each. To allow for comparison the price and specifications for both products are based on the H10 size light bulbs.
Opt7 started producing aftermarket headlights in 2006, and their current FluxBeam headlights have been top of the market for over a year now. The biggest defining feature of the Opt7 product is the design guaranteed to work with CAN bus operated cars.
The Opt7 comes in a 2 pack for just shy of a $100. The bulbs are rated at 3,500 lumens, drawing 30W each with a Cool White output at 6,000K. The bulbs make use of the latest, US manufactured Cree LEDs and have an IP67 water and dust proof rating, culminating in a 50,000 hour lifespan backed by a 2-year warranty.
The Opt7 has a 4.3-star customer rating with numerous compliments about how bright the lights are and how easy the installation was. They are a great quality product with only a few complaints relating to how the light is projected although this can have several potential causes and is not necessarily light bulb specific.
Kensun are a slightly younger company, but have also been around for a while manufacturing HID bulbs where they sold the most popular kit on the market. They've done a good job with their LED kit, and have filled the entry-level market quite well.
On the surface Kensun's offering looks similar to Opt7's, just much cheaper at only $60 for a set of bulbs. The bulbs are slightly dimmer, rated at 3,000 lumens, drawing 30W per bulb. Although a value isn't provided for the colour of the light, using a similar Cree LED, it is expected that the light will be in the 5,500K – 6,000K range. They one up the Opt7 on water proofing, having an IP68 rated product, but drop slightly with a life expectancy of 30,000 hours. Although less, this value is still far beyond any reasonable expectation for a light bulb and is supported by Kensun's 2-year full warranty.
Kensun have received a lower 3.9-star customer rating, mainly due to some complaints questioning the longevity of the product as well as the brightness of the light cast.
Overall not a bad product, especially at the low price it's offered, however CAN bus readiness is not provided.
Conclusion
LEDs are brighter, they put out a whiter light and they do last longer than halogen bulbs. But their greater expense and complexity make people favor halogens as a replacement. LED manufacturers have put a lot of work into making replacement as simple and hassle free as possible, and LEDs are becoming more and more popular.
It should be noted that many jurisdictions do not allow the replacing of halogen light bulbs with LED lamps for safety reasons. It's possible to get away with it if you're careful, but make sure you're up to date on local laws. This is also a reason why some people opt for DOT/SAE approved halogen bulbs instead of LED or HID.
To conclude, LEDs are better. If you're willing to face the cost you're in for an improved lighting experience, and with time the cost may actually pay off.