Fog lights can be quite a contentious issue for some people, even more so when you start talking about LEDs. We dig deeper into the tech and discuss four of the best-LED fog lights currently on the market.
4 Best LED Fog Lights
To keep things fair, we've selected the H10 (9145) format of light bulb to use for the comparison. H10 light bulbs are most commonly used as fog lights but can also serve as a low beam. Different light bulb forms often have different ratings and prices, so we can directly compare their specifications by using one throughout the article.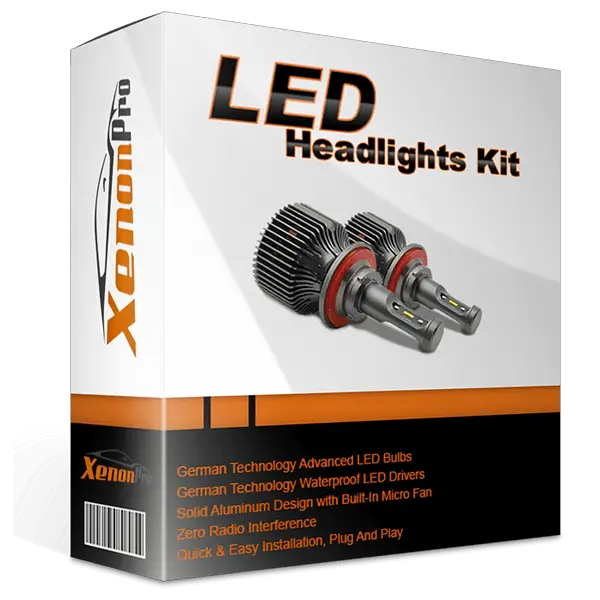 Brightness: 5000 – 9000 lumens (combined) @ 25W – 45W
Color: 6000K White
LED: 45W
Warranty: lifetime
Lifespan: 45,000 hours
XenonPro is a leader in automotive lighting and makes one of the best-LED bulbs on the market for low beams, high beams, and fog lights. Their power, durability, innovative design, lifetime warranty, and 4 color options make them our #1 recommended LED fog light.
The XenonPro LED fog lights to come in pairs. They are designed to directly replace your original halogen fog lights. The installation is straightforward and should take you less than 20 minutes. The best part is that they last over 40,000 hours. If your car comes with LED or HID fog lights by default, these will not fit your vehicle.
The XenonPro LED fog lights to come with a cooling and fan system despite the lower power draw from fogs, and hence heat dissipates. Despite the fan, we haven't heard of any installation issues from customers. We had no trouble installing them when we tested these bulbs for this review.
We've come to expect good things from XenonPro, and this product seems to deliver. Customers have given it an average 4.7-star rating—high praise for products in this category. There's not much to go wrong, but 4- and 5-star ratings account for 95% of all reviews. Customers complimented the XenonPro on its quality, easy fitment, and good color matching.
Another thing we liked about the XenonPro fog lights is that they are available in yellow. All the fog lights we reviewed came exclusively in white. Yellow-colored lights are known to perform better in fog since white light on white mist is not very effective.
#2 – OPT7 LED Fog Light Kit w/ Arc-Beam Bulbs
Brightness: 3,500 lumens @ 30W per bulb
Color: 6,000K Cool White
LED: CREE MK-R
Warranty: 2 years
Lifespan: 50,000 hours
Opt7 has been a leading brand in the LED automotive market since they released their first Flux Beam product a few years ago. This reputation is followed by years of experience developing HID kits. Based in California, they continue to produce top-notch HID products and have expanded their LED range to cover any automotive requirement.
This is Opt7's most expensive fog light kit. It's the same light bulb that can be installed as a low beam. As such, it has a measured brightness far brighter than both its competitors and conventional fog lights. Because of this, a cooling system is required and is provided by Opt 7's Modular Heat Protection in the form of a 7,000RPM TurboCool fan and RedLine Cool control driver.
Opt7 is quick to point out how good their products are, though, and they add some value by making these light bulbs CANBus-Ready which should mean they work the first time without the need for load resistors. Installation is also fast, with the lightbulbs clipping straight in and the minimal inline drivers not getting in the way of anything.
We complimented JDM Astar on their 4.4-star rating; Opt7 took that as a challenge and developed a product that has achieved a 4.5-star rating. People love this product, with 83% of customers giving it a 5-star review. Reviews came from both those who bought it for its assistance in real-life fog situations and those who just liked the look, and everyone agreed the lights are worth the cost.
On the other end of the scale, the bulbs received a 1-star rating from 8% of customers. These customers had a mixed bag of complaints, nothing which seemed to indicate a severe or systematic problem with the product.
While we won't deny this being an excellent product, it's hard to warrant paying $50 for a pair of fog light bulbs, never mind $100. These are lights that many people will never use, and those who do, only for a minimal amount of time. If you are wanting the best product on the market, and are happy to pay for it, then this is what you're looking for. Otherwise, in good faith, we can't recommend you buy these.
#3 – Kensun New Technology LED Headlight Conversion Kit
Brightness: 3,000 lumens @ 30W per bulb
Color: 6,000K
LED: CREE
Warranty: 2 years
Lifespan: 30,000 hours
While still advertised as "New Technology," this product has been on sale for over a year. Not that we hold this against Kensun. They've consistently provided quality products at an affordable price, backed by their "number one in customer service and quality" claim and 2-year standard warranty.
Like Opt7, Kensun progressed from the HID market (which they still dominate) onto newer and better things. Kensun likes to keep things simple, though, and along with this product, offers only one other LED light bulb suitable for fog lights based on their newly released ETI LED chips.
On the topic of suitability, though, it should be noted that these light bulbs weren't explicitly designed as fog lights. As their product title stipulates, this is a headlight conversion kit. However, due to light fittings, these bulbs can also be used as fog lights.
Packaged in the customary Kensun aluminum briefcase, you receive two light bulbs already wired to the plugin. Also provided are two sets of slip-on filters to change the stock color of the light bulbs. These lightbulbs are designed not to require an external driver, which makes installation easier. However, much like the Opt7 device, the power output is far higher than a conventional fog light. Thus a fan is still required, making the bulb slightly longer than a regular H10.
Kensun doesn't score as high as some other products regarding customer feedback. It manages a pretty satisfactory 3.8-stars. Customers were impressed with the brightness of the lights, the ease of installation, and the excellent packaging. Others complained about the short lifespan, with some buyers having gone through two sets of bulbs in less than a year. Some complaints also mention poor light distribution, regardless of brightness.
While this Kensun product benefits from the lack of an external driver, the relatively high cost of fog lights keeps it off our recommended list.
#4 – Opt7 CREE Series 5202 LED Light Bulbs
Brightness: 700 lumens @ 11W per bulb
Color: 5,000K
LED: CREE Xlamp XB-D
Warranty: 1 year
Lifespan: 60,000 hours
We covered one of Opt7's other products earlier, so we'll skip the introduction. This product is designed specifically as a fog light replacement instead of the additional product's dual-use case. Along with the specific design comes a drop in light output, no more external driver, and the rear cooling fan setup removal.
All of this brings with it a price drop to $33. The lack of fan and moving parts also improves the light bulb's durability offering a 60,000-hour lifespan. A number not exceeded by any other manufacturer. Also, contrary to Opt7's standard warranty, these light bulbs are only provided with a 1-year warranty.
Opt7 received an acceptable, although lower than expected, 3.7-star rating from customers for these lights. Surprising because we're used to Opt7 selling only the best products. When investigating this anomaly, we see several complaints about premature failure of the products, along with complaints similar to the JDM Astar, where light distribution is scattered instead of being cut off.
Don't let this put you off entirely, though, the Opt7 series 5202 still received 5-star ratings from more than half of the respondents. While they are not brighter than stock bulbs, people are happy with the product received, especially considering the price, and approve of the white color output. Installation is also easier than ever.
Best LED Fog Lights: FAQ
What are fog lights for?
Fog lights serve two purposes in life these days. Historically they have been used as intended and as their name conveys, under foggy conditions. Fog lights are mounted low to the ground, below one's headlights, and have a sharp cut-off. Much like your low-beam doesn't shine higher than a certain point, fog lights are designed with a similar restriction built-in. The reason for this is to prevent the fog right in front of you from being illuminated, causing glare, and effectively blinding you.
Instead, they shine a wide beam, usually brighter than a low beam, close to the ground. They are designed for low-speed driving, to illuminate the ground and edges when you otherwise can't see. It's rare for us to encounter such conditions in our day-to-day life, but that hasn't curbed the demand for cars to install fog lights.
The second purpose, and many people's main reason, for having fog lights installed, is that they look cool. While some jurisdictions have outlawed the use of fog lights in conditions that don't warrant them, it doesn't stop many people from driving around with them on, a day-to-day basis. And while we don't condone this use, a decent set of fog lights does make a good-looking car that much more appealing. If you're involved in the car-modding scene, then, by all means, have your fog lights on during meet-ups, but not on the road.
LED vs. Halogen
While the ongoing debate about what is better between LED and halogen bulbs has pretty much shifted in favor of LEDs, one still has to decide whether it's worth installing them as fog lights. The biggest advantages offered by LED lights over halogens are their extended lifespan and efficiency when compared to halogens. But how much of an advantage is this in your fog lights, which you are using for an extremely limited amount of time each year.
That being said, LEDs are more durable than halogens. Having no filament, LED bulbs are less likely to become damaged over time just from driving. Along with this, their relative brightness for the same amount of power draw will make them more effective when they are truly needed in inclement weather conditions.
Most LED lights produce a much whiter light (4,000K or higher) than halogens, which makes some people doubt their efficacy. Traditionally fog lights were often yellow. Yellow fog lights were originally thought to improve visibility due to yellow light having a longer wavelength than white light, but studies have shown that white light is equally effective as yellow when illuminating objects in fog. Additionally, most people favor the look of a white or slightly blue light over the soft yellow.
Best LED Fog Lights: Conclusion
If you're looking for the best LED fog lights on the market, then your answer is the Opt7 Arc-Beam. At $100 per set, they're not cheap, but they offer the best in reliability and performance. If you're not interested in paying the price for the best, then the JDM Astar's we discussed first today should be your go-to. At only $30 for a set, you can't go wrong. They're not as bright as the Opt7 Arc-Beam but should outshine your stock halogens and provide a range of other benefits.
Photos/Images: PhotoBucket, Amazon