The LED headlight marketplace continues to get more and more competitive, with some impressive newcomers. This competition has also driven existing manufacturers to improve their products. We're seeing brighter LED headlights with a more focused beam, which is great for us as consumers. With this, we've combed through and identified the best-LED headlights.
Best LED Headlights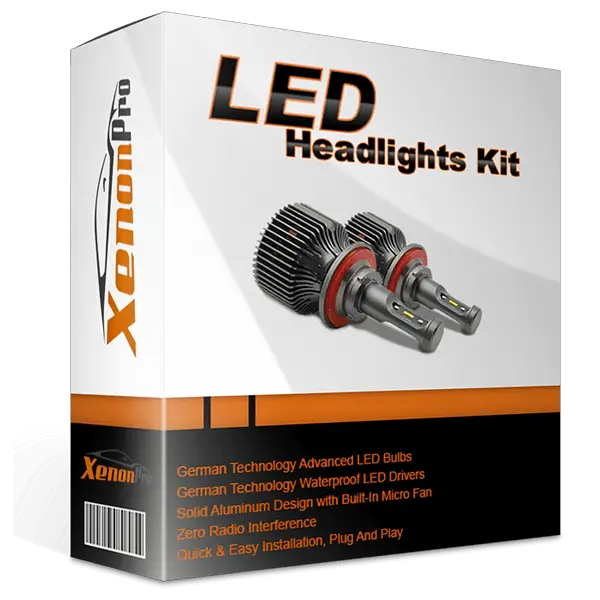 Price: $$
Lumens: 9000 lumens
Color: Purple, White, Yellow, Blue
Wattage: 45-watts
Cooling Method: Micro fans
Warranty: Lifetime
Bulb Life Expectancy: 45,000 hours
Installation Difficulty Level: Easy
Unique Feature(s): German technology LED drivers and LED bulbs
The Xenon Pro LED headlight conversion kit is at the top of our list due to its brightness and extreme clarity, which is the result of advanced German technology. Moreover, these headlights are completely water, dust, shock, and rumble-proof.
 Another amazing feature of the Xenon headlights is that they are available in a number of colors such as yellow, white, purple, and blue to choose the one you like best. They are up to 150% brighter than halogen headlights while saving on energy as they use only 45W for power.
The Xenon headlight bulbs enhance the experience of driving at night by clearly illuminating the road. The plug-and-play installation does not require professional expertise. You can easily do it yourself as it does not require splicing or cutting and utilizes the factory bulb housing and wiring harness.
The built-in micro fans prevent the headlight bulbs from becoming overheated, thus ensuring outstanding performance and longevity. There is no need for ballasts which ensures that these headlights fit easily into your existing factory bulb housing.
Furthermore, these headlight bulbs come with a lifetime warranty and free replacements. This provides the customers with complete peace of mind as they can be sure that these headlights will last them a long time, and even if they do encounter any problems, they can always replace them without any extra charges.
Pros
150% brighter than halogen headlights
Easy and simple installation
Compatible with almost all vehicle models
Shock, dust, rumble, and waterproof
High-quality materials used in the production
Durable aluminum design
Built-in micro-fan
Choice of four colors
No need for ballasts
Premium German quality assurance standards
Lifetime warranty; free replacements
Cons
Could trigger the headlight flickering warning light and dash warning light in some vehicles (can be fixed with anti-flicker capacitors)
#2 – SNGL Super Bright LED Headlight Conversion Kit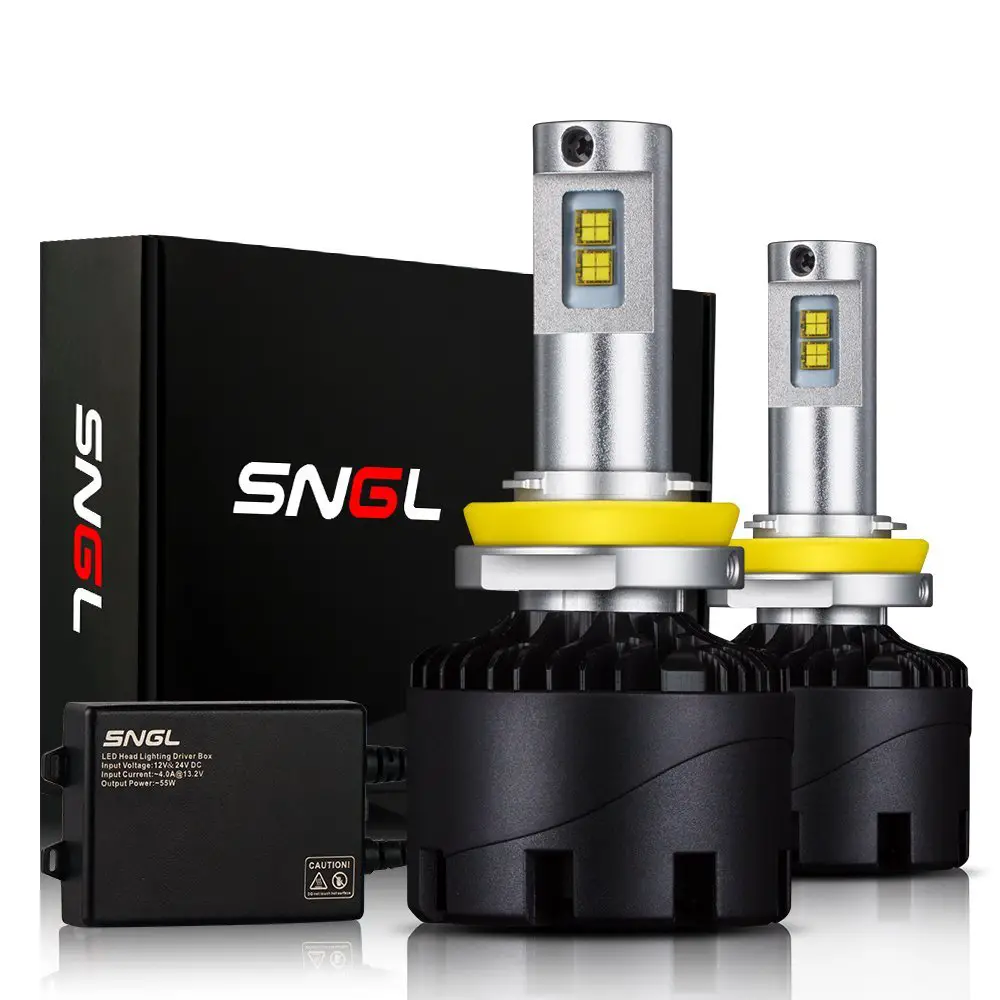 Price: $$$
Lumens: 10,400
Color: Bright White
Wattage: 55 watts
Cooling Method: SNGL Intelligent Constant Cooling System
Warranty: 2 years
Bulb Life Expectancy: 50,000 hours
Installation Difficulty Level: Intermediate, takes 20 minutes max
Unique Feature(s): Anti-glare, adjustable beam technology, fan failure protection
The SNGL Super Bright LED headlight bulbs are the only bulbsthat use LumiLEDs LexeonMZ L.E.D. These bulbs generate the correct beam patternsuitable for the driving conditions with the help of a patented adjustablefocus length.
These headlights are able to achieve high levels of brightness at 12,400 lumens with no foggy lights or dark spots, thus providing a clear view to the drivers even on dark and hazy nights. The crystal clear 6000K white light makes your drive less stressful and safe as it clearly illuminates the objects and obstacles on the road.
The SNGL LED headlights are fitted with an improved intelligent cooling system that ensures that they have a longer life span. This cooling system is a combination of a turbo cool fan and dual IC control driver, which provide 50,000 hours of bright continuous light. Moreover, this cooling system prevents damage to the headlight components.
The SNGL LED headlights are CanBus ready, which makes them compatible with any vehicle's CPU. They are also vibration resistant and shock resistant, which further increases their life span. Moreover, you can mount these headlights on most car models within half an hour.
Pros
Waterproof with a level of IP67
Offers high brightness at 12,400 lumens
True CanBus bulbs are compatible with various vehicles
Bulbs offer 50,000 hours of continuous light
Anti-glare technology prevents the blinding of oncoming drivers
Fitted with an intelligent cooling system and turbofan to ensure a longer lifespan
Does not require warm-up time; instant light up
Vibration and shock resistant LED drivers with overheat protection
2-year free warranty
Cons
Price is a little higher than most other competitors
#3 – HIKARI Ultra LED Headlight Bulbs Conversion Kit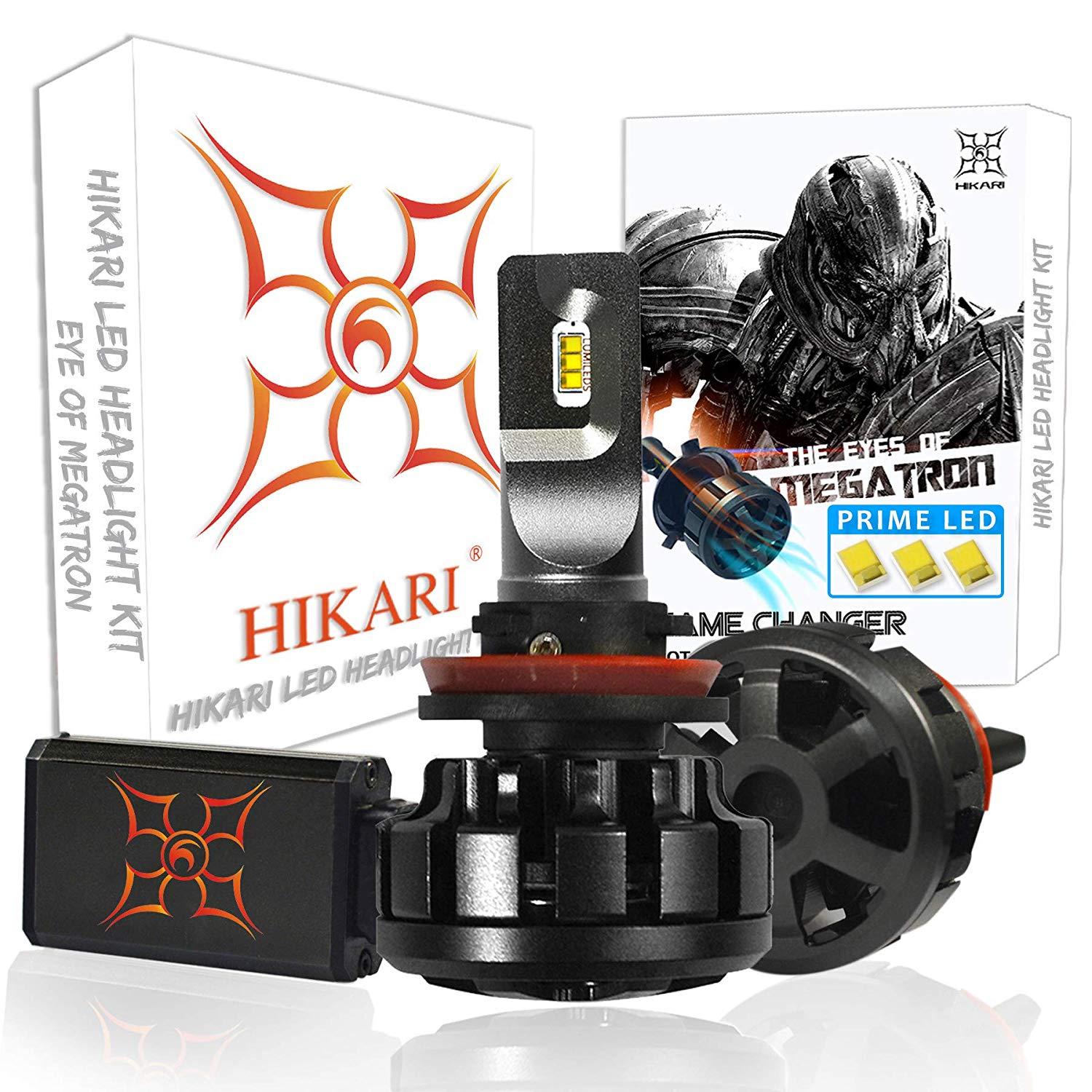 Price: $$
Lumens: 12,000
Color: Cool White
Wattage: 23 watts per bulb
Cooling Method: N/A
Warranty: 2 years
Bulb Life Expectancy: N/A
Installation Difficulty Level: Easy
Unique Feature(s): Modern LED technologies with highly precise pattern hotspot
The HIKARI Ultra LED headlight bulbs make it to our best-LED headlight list as they provide perfect and extremely bright light. These headlights are designed with the latest and most advanced technologies that are not offered by any other brand. You will love the stylish look they give to your vehicle.
They are rainproof and fog-proof, thus allowing you to enjoy a smooth drive despite the weather conditions. The HIKARI headlights are manufactured by using the AI Frequency Technology that ensures a perfect light beam pattern without any dark spots.
These headlights are durable and provide up to almost 50,000 hours of continuous, flicker-free lights. They are also available in various sizes, thus making them perfect for various models of cars. The plug-and-play approach of these headlights makes installation easy. You can easily replace your old bulbs with HIKARI headlights yourself. Moreover, they are compatible with the vehicle's CPU as well.
The built-in fans help to increase the lifespan of these bulbs, while the contemporary design ensures that the light projects a wide arc of light across the road. The high-quality LED used in these headlights produces 12000 lumens thus lighting up the road far ahead of you.
Pros
270% brighter than regular halogen bulbs
Ultra-slim design
Uses less wattage
AI technology ensures a consistent light beam without foggy patches
Fit all cars
Work perfectly underwater
Do not disturb the oncoming traffic
Only headlights that use LED type; CREE XHP50 + XM-L2.
2-year warranty
Cons
Lower wattage compared to other top competitors.
#4 – NINEO LED Headlight Bulbs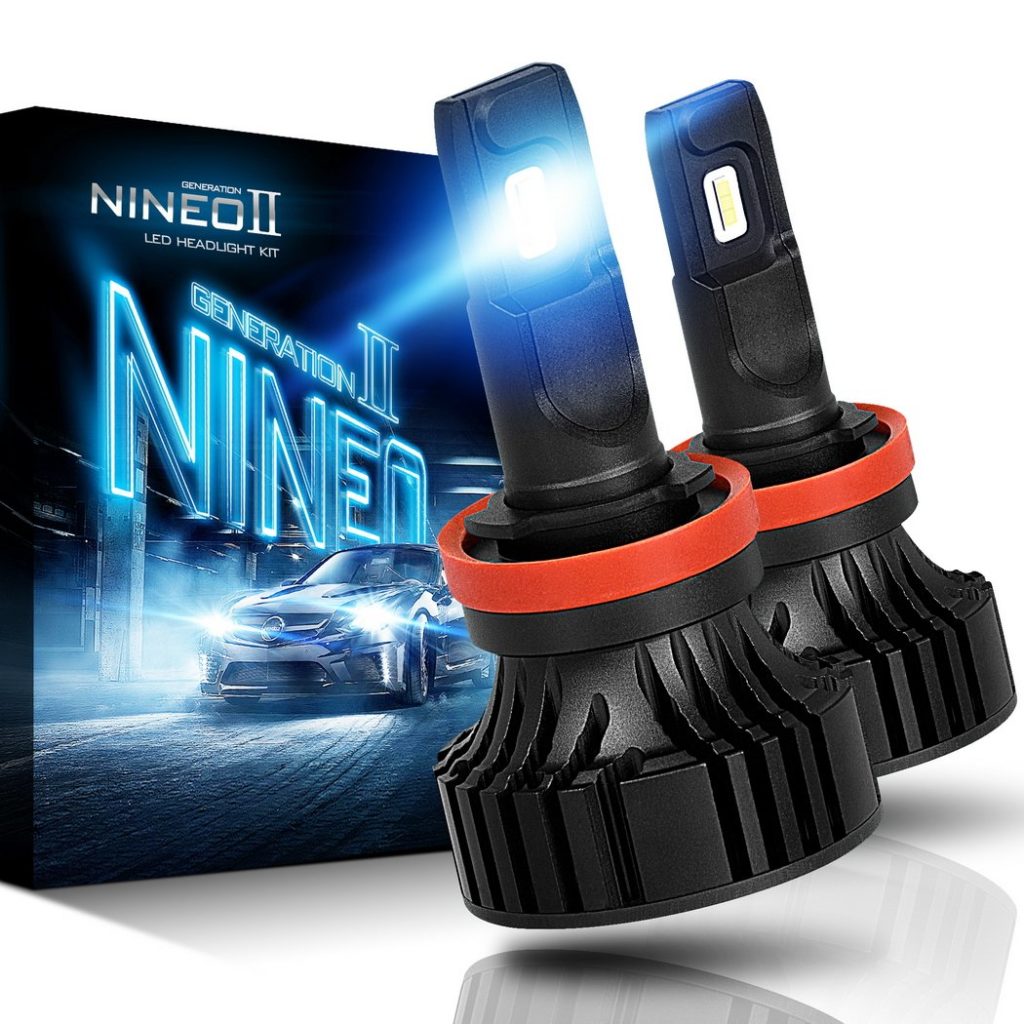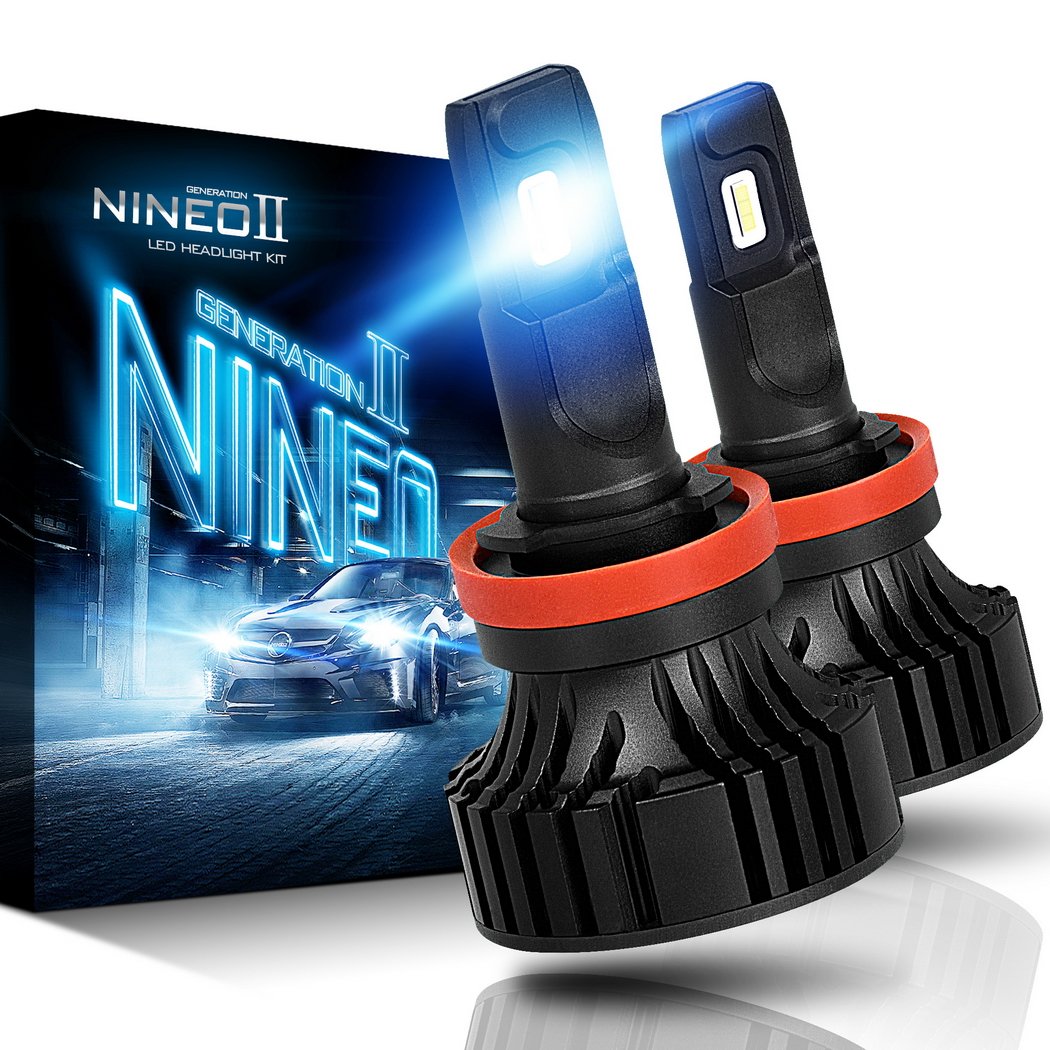 Price: $
Lumens: 12000
Color: WhiteWattage: 60 watts
Cooling Method: Fan
Warranty: One year
Bulb Life Expectancy: 50,000 hours
Installation Difficulty Level: Easy
Unique Feature(s): 360-degree adjustable beam angle and mounting
The NINEO LED headlight bulbs come with an intelligent control driver chip that helps monitor fan speed and maintain cooling. These headlights operate at 6000K with 12000 lumens per pair. Moreover, its advanced technology ensures a perfect beam without any dark spots.
The installation of these headlights is very easy and can bedone within 20 minutes without any added wiring, capacitors, and relays. Theyare CanBUS-ready and do not interfere with the car's computer system. 
The 360 degrees fully adjustable mounting collar makes it easier to properly align the bulbs, thus ensuring correct beam pattern and perfect light output. These headlights come with automatic short-circuit protection, are twice as bright as conventional halogen lights, and last up to 50,000 hours.  
The integrated fan and cooling chip provide heat and water protection and work even in the harshest conditions, while the aluminum heat sink and turbo cooling fan promote a powerful heat dissipation that keeps this unit 30% cooler than your stock halogen. 
Pros  
Turbo cooling fan featuring 7000 revolutions perminute
Waterproof
CanBUS-ready technology is compatible withvarious automotive computer systems
Plug-and-play installation
Adjustable mounting
Five times brighter than halogen headlights
Maximum heat dissipation
3-year warranty
Cons
May experience flickering (can be fixed with anti-flicker capacitors)
#5 – Glowteck LED Headlight Bulbs Conversion Kit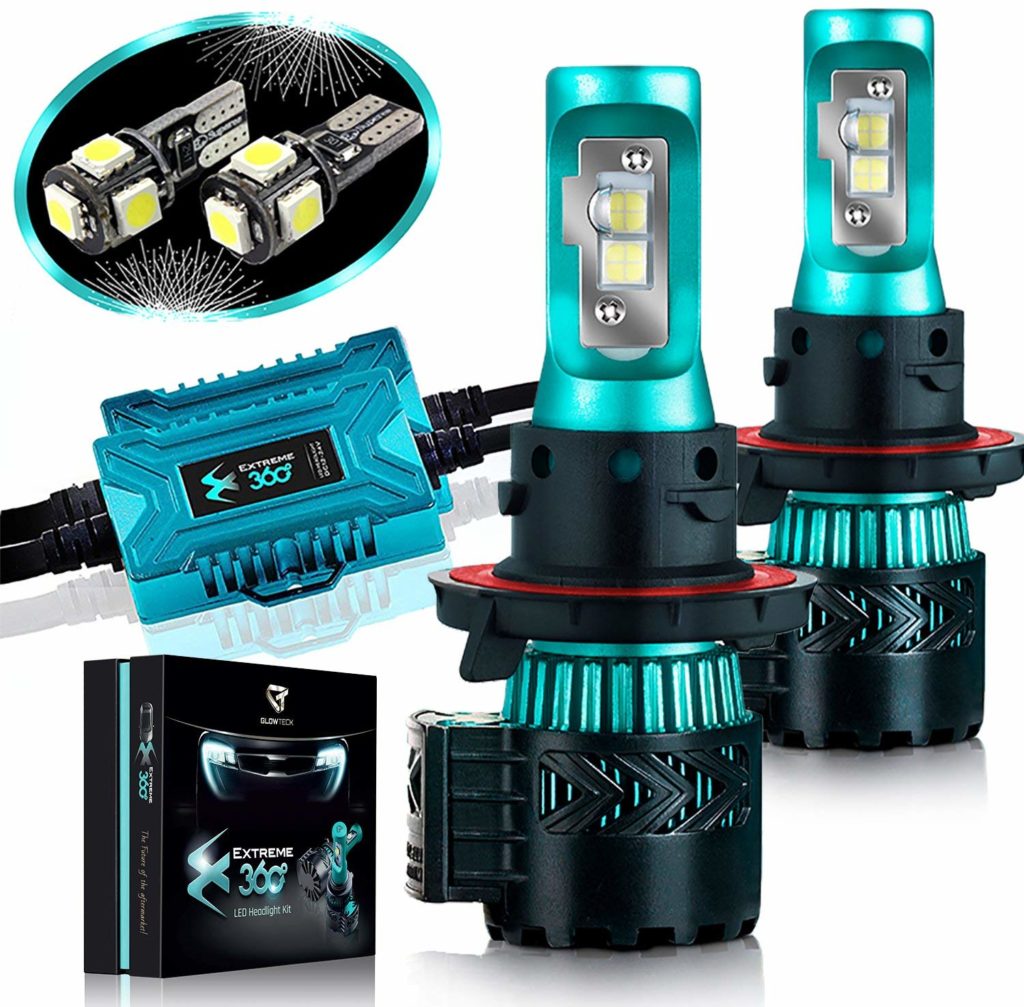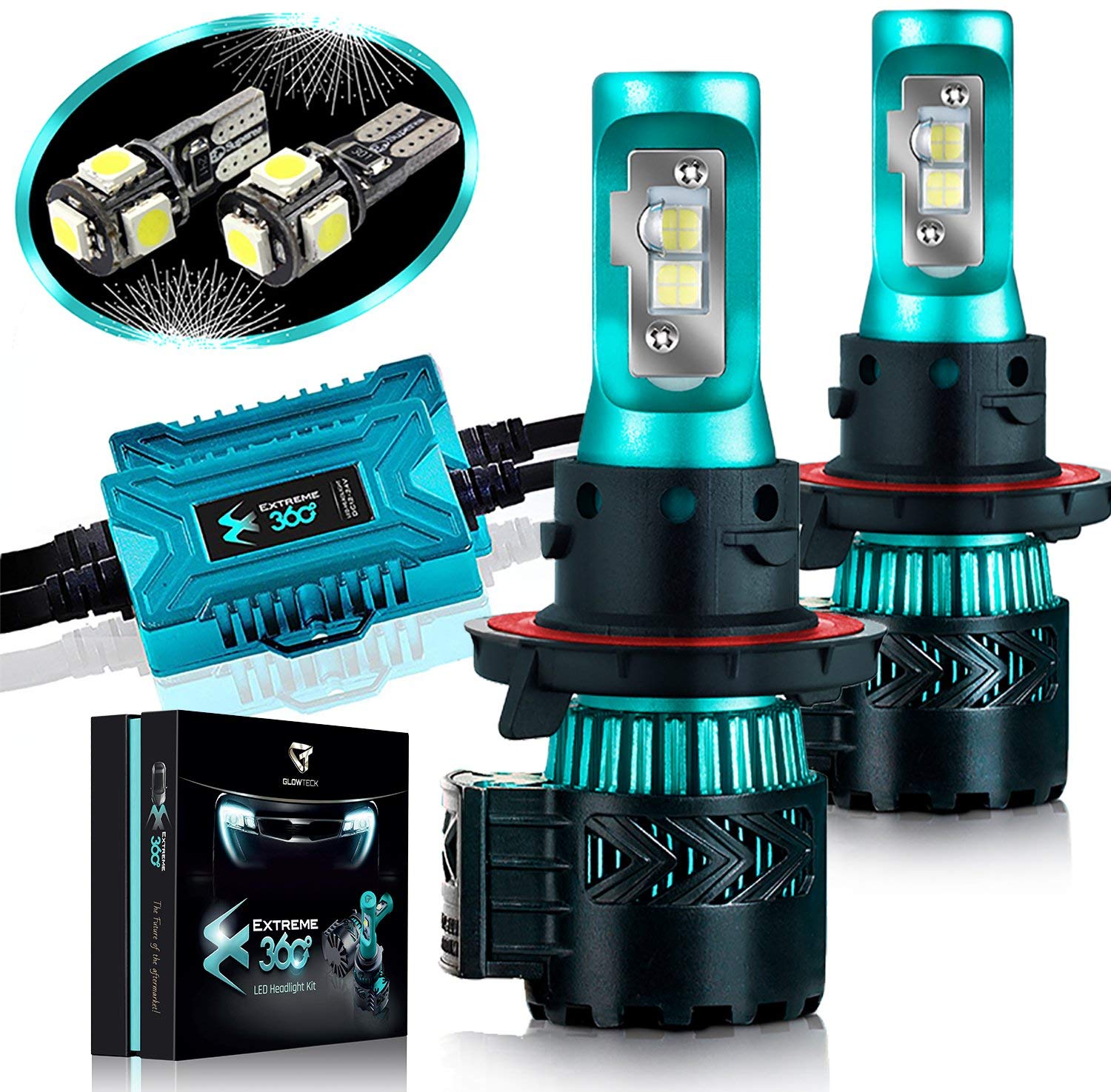 Price: $
Lumens: 12000
Color: Cool white
Wattage: 68 watts
Cooling Method: AirFlux dual cooling
Warranty: 2 years
Bulb Life Expectancy: 40,000 hours
Installation Difficulty Level: Intermediate, takes less than 20 minutes
Unique Feature(s): Adjustable beam pattern, maximum light output
The Glowteck LED headlights are designed with the latest CREE XHP 50 LED Chip, thus making them a great kit to upgrade from halogen headlights. They are on our list of best LED headlights as they produce 12000 lumens per pair thus providing brighter illumination. With an anti-glare body and spherical optical design, these headlights provide greater color consistency, reliability, and lumen density.
The AirFLUX dual cooling together with a dual Japanese ballbearing cooling fan and copper thermal heatsink these headlights ensure maximumheat dissipation. They have a longer lifespan of 40,000 hours and plug-and-playinstallation that ensures bulb replacement within 20 minutes.
The Glowteck LED headlights are fully adjustable, thus making them compatible with various car models. They are suitable for fog light assembly, high beams, and low beams and ensure a clear and crisp white beam pattern for your vehicle.
Pros
Requires zero warm-up time
Adjustable beam pattern
Constructed with advanced technology
Provides 40,000 hours of clear light
Suitable for all car types
Easy installation
2-year warranty
Cons
It May not fit some vehicles
#6 – JDM ASTAR T1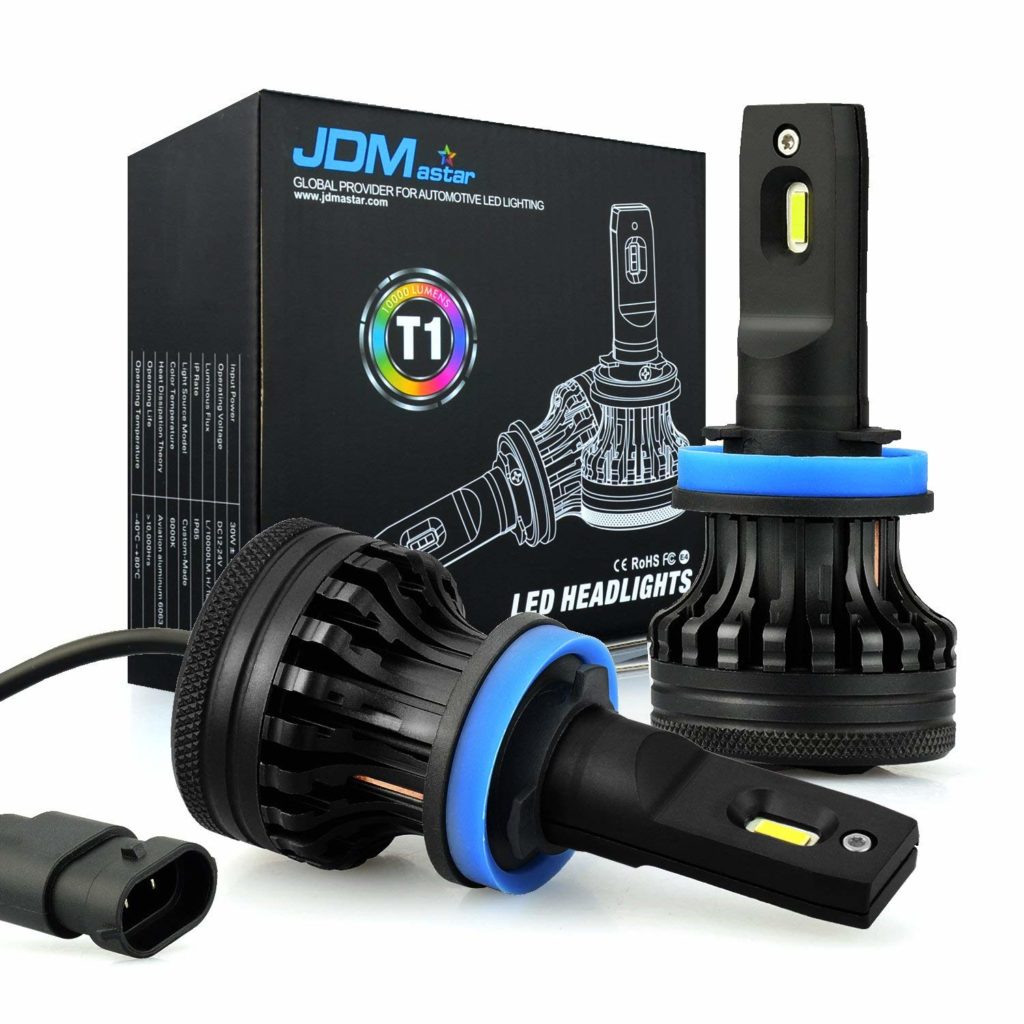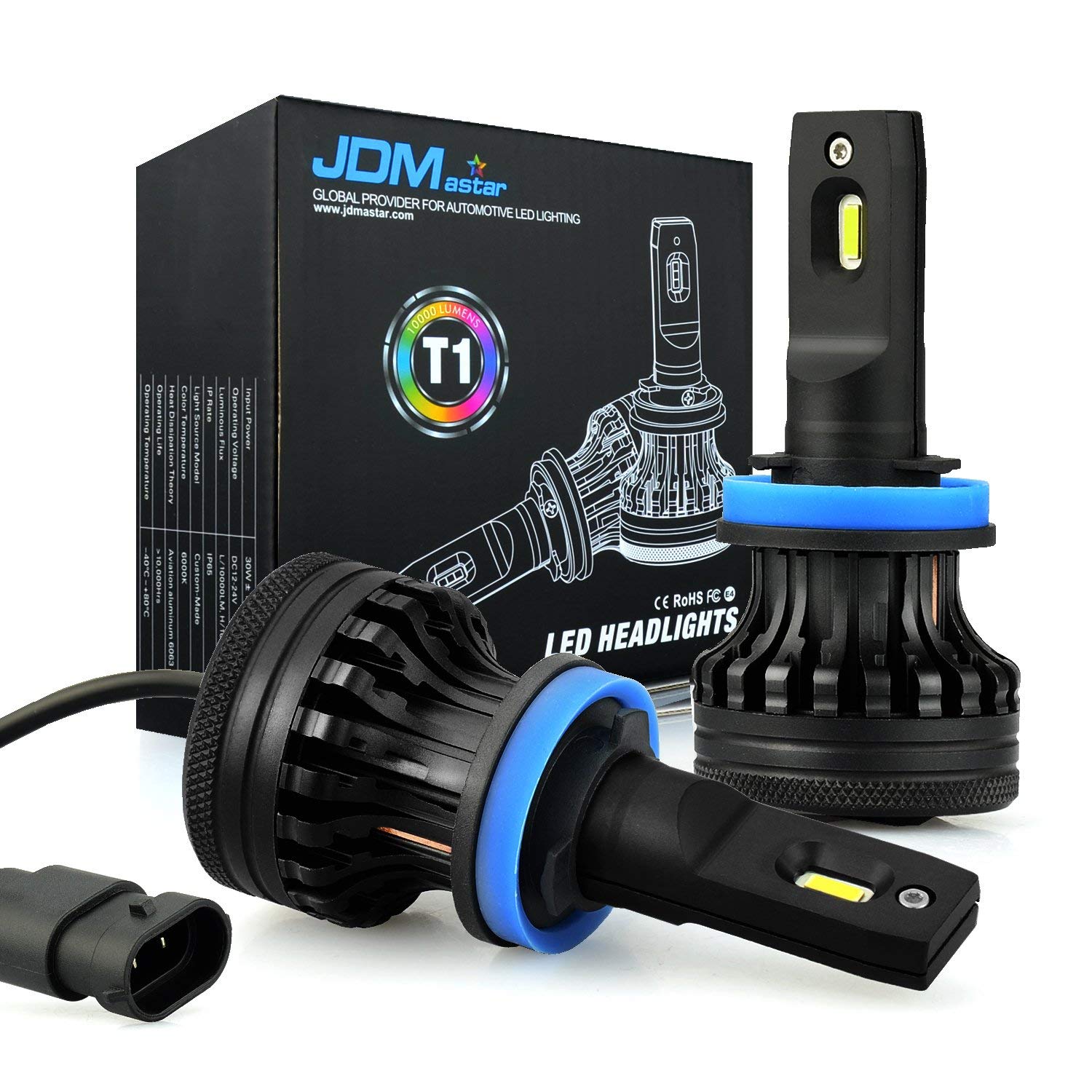 Price: $
Lumens: 10,000
Color: Xenon white
Wattage: 40 watts
Cooling Method: Aviation Aluminum Heat Dissipation
Warranty: One year
Bulb Life Expectancy: 20,000 hours
Installation Difficulty Level: Easy
Unique Feature(s): Improved light beam pattern
The JDM ASTAR T1 produces 10,000 lumens without requiring anexternal driver. The conversion kit contains everything that is required for anupgrade. These efficient headlight bulbs produce a light output of 6,500K.Their unbeatable price and unmatched performance make these headlights one ofthe best headlights available.
These headlights can be used as a fog lamp or headlight.Their aviation aluminum heat dissipation design ensures a longer lifespan ofmore than 20,000 hours. Moreover, they produce 100% more light as compared to astandard halogen bulb.
Pros
6,500K light
The lifespan of 20,000 hours
Non-polarity design
Excellent heat dissipation
Plug and play connector
IP65 waterproof rating
-40 to +80 degrees temperature range
1-year warranty
Cons
Flickering issue (can be fixed with anti-flicker capacitors)
LED Headlight Buying Guide: How to Buy LED Headlights

A headlight helps you see and be seen. Deciding to upgrade your vehicle's headlights is the easy part but figuring out which one will be best for you can be a bit challenging. It is important to consider various features before choosing one. However, seven of these are the most important.
Top 7 Things to Consider When Buying LED Headlights
LED bulb color:

It is not advisable to buy LED headlights that have a warm, yellowish light as they do not light up the road clearly. However, LED bulbs that have a temperature of more than 5,000 Kelvin mark are the safest headlight bulbs.

These bulbs project light that is Daylight white and enables you to see the furthest and offers the widest view. They illuminate the road as bright as in daytime thus ensuring the perfect illumination of the road.

Lumens or light output:

Light intensity is measured in lumens. Headlight bulbs with a low lumen of 6,000 are typically available in bright or super bright colors that provide adequate light for over 500m in a straight line.

They project a light beam that is adequate and easily visible over great ranges. Headlight bulbs that have a lumen of 8000 are very powerful and illuminate everything within 700m in a straight line.

Headlight bulbs with a lumen of 10000 illuminate the street as if it's daytime. These bulbs ensure that the night drive is safe and comfortable. 

LED Headlight Life Expectancy:

Many headlight bulbs have a life expectancy of more than 30,000 hours which is much better than the lifespan of halogen bulbs which have a lifespan of 6,000 hours. They have a built-in cooling fan or a cooling chip that ensures maximum heat dissipation.

On the other hand, there are LED headlight bulbs that have a life expectancy of more than 50,000 hours. They are designed with both a cooling fan and a cooling chip to keep them from getting warm.

The fans in these headlights are more powerful thus effective heat dissipation in the case. This helps to keep the LED bulb better protected.

Warranty:

Different manufacturers offer different warranties for their products. Some have a warranty of two years while some of three years. Manufacturers offer these warranty periods because they have confidence in their products.

If you buy a product with three years warranty, you can have greater peace of mind. These manufacturers also offer free technical support so you can always call them in case of any problems.

LED Headlight Cooling Methods:

LED headlights generate a lot of heat; that is why they come with built-in cooling systems. If the headlights get too hot, it can cause a problem; therefore, it is important to choose a headlight that has a high-quality cooling system.

There are primarily two kinds of cooling systems:

Heat Sink

Fanless LEDs, also known as LEDs that come with a heat sink, use a passive cooling mechanism that doesn't involve external sources for cooling down the headlights. Instead, they come with a heat sink which, in turn, ensures high levels of heat dissipation.

Compared to LEDs that come with a fan, these have a longer lifespan. Moreover, they are more energy-efficient and cost-effective. They are also comparatively silent and promise superior lighting performance. In addition, it doesn't need any energy source for running, and it doesn't attract too much dust.

On the other hand, they do require continuous monitoring frequently, and they are not as fast as fan LEDs since they depend on natural elements such as the wind.

Fan

This cooling mechanism basically involves the use of a fan that adopts the active cooling mechanism. The fan is the external source that rotates to reduce the heat.

Since the fan is installed within the headlights' assembly, the heat is eliminated quickly. Since most such kinds of LEDs come with a slim fan, they don't require a lot of space and fit in with the assembly properly. Plus, during convection, the fluid flow rate increases, which, in turn, speeds up the process of heat removal.

However, using an external source like a fan not only consumes extra power but also increases the maintenance cost overall. Plus, fans can create quite a lot of noise while they try to cool down the lights.

Also, if the headlight assembly isn't sealed properly in some cases, the fans can attract quite a lot of dust, which ultimately affects the performance of the headlights.

Beam Pattern, Light Focus or Scattering

When choosing a LED light, you must also pick out the right beam pattern. In other words, you have to select the right scattering. There are various patterns to choose from:

Spot beam

This is a precise and focused light beam that emits light at an angle of 10 degrees. As a result, the light can go as far as possible. This is the ideal choice if you'll mostly be traveling on straight country roads or on slow-moving trails. However, since the beam is quite narrow, the obstacles on the side go unnoticed.

Flood beam

The beamwidth in a flood beam is 60 degrees. The beam is wide enough that it illuminates the sides of the trail as well. As a result, obstacles are easier to see, which, in turn, maximizes your safety. In other words, this is the best beam pattern for curvy back-country roads and fast-moving trails.

Combination beam

This is, perhaps, the most popular beam pattern since it combines both the flood beam and spot beam pattern, making it highly versatile.

Driving beam

This beam has a light spread of 60 degrees and has a sharp, noticeable diamond-shaped pattern. This is great for cars, but it is also one of the best options for ATVs and trucks.

Diffusion beam

This beam produces a soft light which gives the illusion of an obstacle being surrounded by light instead of creating a glare like other beams. While this has a limited light range, it is best for fog lights and reverses lights because of its diffused light output.

Price

LED headlights are available at different prices. Low-priced units typically have a low lumen number; therefore, the light intensity is not so high, and the lifespan is low, but they provide bright light.

While the high-priced models, on the other hand, are usually the best products available. Although that is not a general rule, it is better to research carefully before choosing one.

These LED headlights have a light intensity of more than 10,000 lumens. They have a long lifespan, and the light beam clearly illuminates greater distances.
Other important considerations

Local laws

Although LED lights are widely accepted, there are some communities that limit their usage. Therefore, it is best to know the local laws of the community so that you do not encounter any issues.

Installation

Most LED headlights come with a plug-and-play installation. These units do not require much time or effort, therefore, make sure that you choose one that does not require professional help.
LED vs. HID vs. Halogen Headlights. Which is best?
When it comes to headlights, there are primarily three kinds; halogen, HID and LED.
Halogen Headlights
Halogen headlights emit a warm, bright white light that sufficiently illuminates the road. They are cost-effective, easy to replace, and have a 450 to 1000 hours of reasonable lifespan.

Pros & Cons of Halogen Headlights

Halogen headlights are simple and quite cost-effective. Their replacement costs are quite low when compared to other kinds of headlights. They are also capable of creating a decent illumination at a low cost.

Moreover, they are available in various sizes, which means that they can be installed on almost all car models. In addition, they have a simple design, and anyone can mount them easily.

However, these headlights generate a lot of heat, which increases energy consumption, thus placing a greater demand on the vehicle's energy sources. Under normal circumstances, they can provide up to 1000 hours of light. While this is reasonable, this is quite low compared to the lifespan of other kinds of LEDs on the market.

In addition, the light beam can have dark spots or look foggy. Also, you must be careful when replacing the bulb since halogen bulbs can react to various elements.
HID headlights
HID headlights are basically xenonheadlights and are considered to be a more efficient solution than halogenlights primarily because of their color temperature and the amount of lightthey can generate.
Pros& Cons of HID Headlights
HID headlights are typically brighter thanhalogens and LEDs, have a longer lifespan, provide brighter light over a largerdistance, and consume less power than halogens. Since they have lower operatingtemperatures than halogen lights, they are much more efficient.
On the other hand, these headlights are more fragile, costlier, and have a strong glare that could disturb other drivers. However, the main drawback of these lights is that they take quite a long time to reach the right operating temperature to provide strong light. Repairing and replacing these is also quite costly.
LED Headlights
LED headlights require little power tofunction effectively. Due to their long life and distinctive looks, they areused in various products ranging from in-home lamps to electronics. While theseare brighter than halogens, they produce a warmer color than HID headlights.
Pros& Cons of LED Headlights
They are small, easy to install, brighter than halogen, perfect for night driving, and do not have a glare like HID headlights. Since they are small, they can be arranged in various configurations and shapes. Plus, compared to both HIDs and halogen lights, they require little power to function, making them the ideal choice for electric and hybrid vehicles.
However, they are expensive and require a good cooling system to preserve their power operation. As a result, they are harder to design, implement, and install and are more expensive than HIDs. Not to forget, in most cases, you will have to pay for professional installation as well. 
Types of LED Headlights
Speaking broadly, there are two kinds ofLED headlights.
Car headlights must have low and high or dipped beams. Some manufacturers achieve this by making use of just one bulb integrated with both the high beam and low beam function. This is known as the dual-beam headlight.
On the other hand, other designers come with two separate bulbs with the low beam and high beam function separately. This is called a single beam headlight.
In other words, single beam headlights only have two bulbs per headlight. Meanwhile, dual-beam headlights only have one bulb per headlight. Also, if your vehicle has single beam headlights, then your only option is to replace them with single beam bulbs when it's time to change them. The same is the case for dual-beam headlights. The two styles aren't interchangeable since the wiring for both is different.
LED Chip Types/Brands. What's the Difference?
There are three different kinds of LED chip types.
Surface Mounted Diode (SMD)
SMD is a standalone chip put on a ceramic base and can be integrated into different packages for linear light strips. SMD also has the capability of supporting more complicated designs like chips that have RGB capabilities, which are quite powerful for color combinations.
With SMDs, it is also possible to have 3 diodes on just one chip. So, for instance, if the chip includes a blue, green, and red diode, it is possible to create any color you want by adjusting the output level from the individual diodes. So, since these can change colors and are quite bright, they are extensively used for LED light bulbs.
Chip on board and SMD are similar in the sense that both have several diodes on the same chip. However, that's where the similarities come to an end. COB has better lumen-per-watt ratios than other LED technologies like SMB. Plus, it is very efficient and powerful in single-color applications. However, they can't be used for creating color-changing lights.
Flip chip is a comparatively new technology that involves mounting the LED diode upside down. This kind of chip has several benefits. For instance, it shortens the production process, which ultimately results in cost reduction. It also reduces thermal resistance and a higher rate of heat dissipation, which takes away the need for a heavyweight thermal heat sink. Moreover, the small, square design makes the light beam more focused. 
LED Headlights in Reflector vs. Projector Style Headlight Housings
Reflector headlights have been the standard on vehicles ever since electric headlights came into being. A reflector comes with a bulb in a steel bowl. There are mirrors placed in the bowl to reflect light on the road. With such a style of headlights, it's impossible to remove the casing to replace the burnt-out bulb.
There are primarily two benefits of reflector-style headlights. Firstly, they are quite cheap to make, so most manufacturers use these. Secondly, they are smaller compared to projector headlights which are deeper, thus requiring more space.
Projector headlights are quite similar to reflector headlights since they also have a steel bowl bulb and mirrors that act as reflectors. However, they also have a lens that functions as a magnifying glass, which increases the brightness of the light beam. There's also a cut-off shield that ensures that the light produced by such headlights is properly angled. This also helps to direct the light towards the road, which means that they don't shine in the eyes of other drivers.
Moreover, xenon HID bulbs are only suitableto use with project headlights. When used in reflector headlights, they can betoo bright and blind other drivers.
It's quite clear that projector headlightsare much better than reflector ones since they are brighter and give off evenlight. Plus, they have a lower chance of blinding the oncoming traffic.
Should You Swap Your Stock Halogen Headlights for LEDs?
Halogen bulbs come with reflectorheadlights since they are bright enough to illuminate the car's forward areawithout blinding the oncoming traffic. There is a mechanism to set the beamsuch that it points down. However, the scattered beam is still there due to thelight bouncing off multiple reflector surfaces. But, the brightness is loweredsuch that it can illuminate the space without blinding.
So, if you replace halogen bulbs with LEDswith the same wattage without changing your reflector headlights into projectorones, then the brightness could be overwhelming. Plus, the scattered light willalso become extremely bright and could blind the oncoming drivers.
Switching your halogen headlights for LEDs is entirely about personal preference. With LEDs, the intensity is great, plus the greater the halogen bulbs you replace with LEDs, the less work the electrical system of your car has to do.
How to Remove Stock Headlights & Install a LED Headlight Kit
Now that you've decided that you'd ratheropt for LEDs, you need to follow these ten simple steps to remove the stockheadlights and replace them with LED headlights.
Know the headlight bulb type
Before you start, you must find out yourright headlight bulb type. As mentioned earlier, there are two kinds of bulbs;single beam and double beam. There are several ways of determining the type ofbulb in your vehicle. A quick search on the net is most likely to get you theanswer, but if that's not enough, then you can either check the owner manual,or you can just remove the headlight bulb and read the information given on it.
Buy an LED conversion kit
Once you've found the right bulb type, the next step is to buy an LED headlight conversion kit. You might get it from local stores, but if not, there are a plethora of online stores selling these. You are free to choose the one you think fits your budget best but, at the same time, provides quality.
Checking your conversionkit
Once you get the LED headlight kit, youmust check if it contains all the right components. Apart from the two LEDbulbs, the kit must also include wiring and two ballasts.
Now that you are ready to switch your stock headlights for LEDs, take a few pictures of the light produced by your current headlights. Then after you've fitted in the LEDs, you can compare the results of the two to know the difference.
Locate the headlight bulbs
Finally, it's time to get started! First,make sure that your vehicle is fully secured. The engine must be off with thekeys taken out from the ignition and the parking brakes on. Now, pop open thehood and locate the headlight bulbs. Once you find them, unplug the plasticwiring connector from the stock bulb.
If this is your first time replacing a headlight bulb, you might need to use a flat screwdriver to help remove the plastic clip.
Take out the stockheadlight
Depending on the kind of bulb fitted inyour stock headlights, you might have to remove a metal clip first before youcan twist it anti-clockwise and pull it out. While taking out the bulb isn'tdifficult, you must be patient and work on twisting the bulb firmly until it'sout.
It is better to store the bulb you've takenout in a safe place since you might want to use them somewhere in the future.
The next step is to fit the LED bulbs intothe socket. While doing so, you must be careful not to come into contact withthe LED with your bare fingers. Twist the bulb gently in a clockwise directionuntil it is secure.   
Once the bulb is secured, connect the ballast wiring. One of the ends will go to the new LED bulb, while the other will be connected to the original wiring harness.
Switch on your headlights and check the position and height of the new cut-off. Since you wouldn't want to blind the other drivers with your new lights, you might have to make some adjustments to the headlights' position. To do so, you can simply adjust the alignment screws of the headlights, or you can go through the owner's manual to know more.
Using either plastic zip ties ordouble-sided tape, secure the ballasts. Note that it is better to keep themaway from excessive moisture, vibration, and heat. One way to do so is to mountit on the back of the housing of the headlight. Once this is done, you canclose back your hood and enjoy driving with your new lights!
What to Avoid When Buying LED Headlights
Headlights are an important feature of any vehicle that is imperative for the driver's safety. Therefore, you must choose a reputable seller so that you can be sure of the quality. Make sure that the headlights that you choose are compatible with your vehicle to avoid any problems. 
Look for LED bulbs that produce 7000 LM or more.
5500K – 6000K color temperature is best for a nice clean white (not blue) headlight color.
Fan cooling is good, but heat sinks do have no moving parts, which could last longer.
Look for "plug and play" installation
Look for bulbs whose light source positioning matches the stock halogen headlight bulb exactly.
Buy from companies that have well-established brand names or lots of positive customer reviews.
Other Types of LED Lights for Cars
Apart from LED headlights, there areseveral other kinds of LED lights for cars.
Also known as driving lamps, interior lights illuminate the inside of your car. These lights most commonly help light up the passenger seat or find items in the dark. LED interior lights are normally much brighter than their halogen counterparts.
LED reverse lights are considered one of the most popular upgrades for the rear part of any aftermarket vehicle. These lights are more known for improving the lighting output of the rear of the car, increasing the vehicle's appearance.
Such lights are a great addition to factory incandescent reverse lights since they are powered up by a separate source, increasing lighting output.
Also known as blinkers or signal lights, these lights are placed in a vehicle's back and front corners. They are used for informing other drivers where you are about to move. For instance, when you want to change the lanes, the right signal will warn the other vehicles in your lane as well as in the lane you are about to move into that you're steering the car their way.
These are the red lights that are presenton the back of the car. They light up whenever your headlights are on. Thepurpose of these lights is to make you more visible to the vehicles behind youand help them to realize the distance to your car.
LED fog lights are most commonly installed below or near the headlights. The other lights on your car refract from the fog and create a wall of light through which a driver is unable to see. These lights must only be used while driving in thick fog.
LED License Plate Illumination Lights
License plate illumination lights are not, of course, the essential part of your car's illumination gear. However, they are necessary. The laws differ from state to state, but your rear license plate should be clearly visible to law enforcement officers even if the lighting requirements aren't explicitly specified. If there are no license illumination plates or non-functioning, then it could be interpreted as an attempt to secure the plate,, which could result in a fine and a ticket. Swapping your stock halogen license plate lights with whiter LED license plate lights can put that clean finishing touch on your ride.
LED Daytime Marker Lights
Most new vehicles usually come installed with these lights. They are located on the front as well as the rear of the car. They automatically turn on to provide improved visibility during daytime hours.
Best led headlights: FAQs 
What headlights do I need?
The type of headlights suitable for a car greatly depends on its model and make. If you are unsure about the headlights suitable for your car, you can contact your vehicle manufacturer or browse through your car's manual to make sure that the headlights that you have chosen for your car are compatible and will not cause any problem in installation.
You can also find the best headlights foryour car by visiting the websitehttps://www.sylvania-automotive.com/apps/vlrg-us/Vlrg/. This website is verysimple to use. You can just enter your vehicle name or the part number andbegin your search. 
How to install LED headlight bulbs?
Most LED headlight conversion kits are plug-and-play. This ensures easy installation with minimum effort and time. The first thing to do is find the best-LED headlight bulb for your car. Disconnect the wire connecting the halogen bulb and twist the bulb anti-clockwise to remove it. Replace it with your chosen LED bulb and twist it clockwise to fix it in place. Do not touch the LED bulb with bare hands as it may damage them.  
Are LED headlight bulbs legal?
Typically LED bulbs are legal; however, the actual blue color is not permissible in some states. Make sure that you are well aware of local laws regarding LED bulbs before investing in them.
How long do LED headlight bulbs last?
Good quality LED headlights can last up to 50,000 hours. If you drive more at night and use headlights for 10 hours every day, they are going to last you for more than 13 years, thus making LED headlights a good investment. 
What is the difference between LED and HID headlights, and which is better?
Compared to HID headlights, LED seems to be the better option. This is because their high intensity makes it tough to control the arc when it comes to HID. Plus, the glare caused by the HID headlights can be so powerful that it can blind oncoming motorists. On the other hand, no such issues are associated with the beams produced by LED headlights.
What do I do if my LED headlights are flickering?
Numerous factors can cause your headlightsto flicker while driving. Most commonly, these problems could be common issuesrelated to headlight bulbs, the failure of the alternator to start, and even aweak battery. However, if all those items are working fine, then you shouldinspect the light sockets, switches, wiring, and relays. Worn-out switches,loose connections, and burnt sockets and relays can also cause intermittentbreaks in the power supply.
In some cases, the cause of flickering could be failed communication between your car's computer system and the headlights. You will need error code canceller capacitors or anti-flicker capacitors in cases like these. Both of these are simple pieces of equipment of the car, which essentially translates the miscommunication between the headlights and the car's computer system. With the help of the capacitor, the car's computer system will stop recognizing the LED lights as a fault, thereby bringing the flickering to a halt.
How to adjust the headlight not to blind oncoming traffic?
Some states have defined theirspecifications when it comes to the aim of headlights to avoid blinding theoncoming traffic. Similarly, most automakers also come with headlight aimingspecs. It is better to follow these specifications.
Adjusting the headlights not to blind upcoming traffic is easy, but it takes time. Most commonly, your headlights tend to blind the oncoming traffic if they are not aligned properly. First, to align your headlights, park the car on the flat ground and ensure that it is level. Unload the heavy items from the truck if there are any, fill up the gas tank, check the suspensions, and make sure that the tire pressure is even on all four corners.
Once the car is level, pull it as close to a plain wall as possible and switch on your lights. Doing so will enable you to find the centers of your low beam headlights. Now, mark both the spots using a single piece of horizontal tape that runs through the middle. Do the same vertically, making sure that the tape runs through the center.
Before moving on to the next step, find the adjusters of your car's headlights. Most often, they are present somewhere on the headlight assembly. To help save time, you can go through the user's manual and know exactly where they are.
Once you have found the adjusters, back your car up such that it's 25 feet away from the wall. While this is the standard, it does differ by model, so it's best to check your manual. Once you have the car backed up to the right distance, block one of the headlights and see where the other beam falls. Compare it to the markings that you previously made on the wall. When it comes to the vertical aim, the top of the highest intensity part of the beam must be at or below the centerline of the horizontal tape you placed.
Similarly, for the horizontal aim, the mostintense spot of the beam must be on the right of the vertical line you made.Use the adjusters to make the necessary adjustments and then repeat theprocedure for the other headlight.
Why do some LED headlights blind or create glare for other drivers?
Glare basically refers to the difficulty inseeing or the reduction of visibility when there's a bright light present.Headlights that shine excessively bright in the driver's eyes cause lightscatter or glare. The glare is sometimes also called disability glare, whichblinds the other driver and leaves him unable to detect contrast.
Usually, LED headlights tend to create glare or blind drivers because of a less-sharp cut-off, which directs more light into the eyes of the other driver.
Will LED headlight bulbs fade over time?
Since high-brightness LED headlights do not burn out rapidly, they tend to fade away slowly with time. A well-designed LED can last somewhere between 50,000 to 70,000 hours before the illumination isn't right for the job. The rate at which the LED headlights fade depends on operating conditions as well as external factors like changes in thermal load, relative humidity, and temperature.
Do LED headlights draw a lot of power?
One of the greatest features of LED headlights is the fact that they are highly energy-efficient, which means that they do not suck up a lot of power. So, regardless of the model you buy, most LED headlights require power somewhere between 30 watts and 60 watts.
Do LED headlights create a lot of heat?
When compared to other kinds of headlights such as HID or halogen, LEDs do not create as much heat. This is because they are incredibly energy-efficient and thus don't emit a lot of heat. However, LEDs are designed such that they have a mechanism for dissipating heat. The lack of a cooling mechanism can cause the headlights to fail prematurely.
What type of LED Headlight Bulb Cooling is best?
Both fan and heat sinks are equally beneficial with each having its own advantages. Since both kinds cater to different needs, it is impossible to call one best over the other. Generally, the best-LED headlight bulb cooling is one that caters most to both the driver and the vehicle.
By driver, it comes down to various factors like the intensity you're looking for, the time period for which you plan to use your headlights, and the places you will be driving through. It also depends on the driving conditions such as off-road, extreme weather, and snow.
Meanwhile, when it comes to the vehicle, itdepends on the model, the overall clearance, the size of the bulb, and the waythe stock bulb is secured.
The drawbacks and benefits of heat sinksand fans have been mentioned above so it all comes down to personal preferenceand use.
Can I get an LED headlight for my motorcycle?
It is possible to get LED headlights for your motorcycle. In fact, there are various benefits. For instance, apart from the benefits we already know, LEDs are ideal for motorcycles since they are resistant to moisture, and can take high impacts better than other kinds of lights. Plus, having bright and focused LEDs can make driving safer during the day as well as at night. 
Do halo-style LED headlights to offer anything more than styling?
Halo-style LED headlights are also known as angel eyes. These are just accessory lights that are integrated into the headlight assembly of a vehicle to encircle the high or low beam light. They do not replace headlights and are just for cosmetic purposes or to be used as daytime running lights. 
Where to buy led headlight bulbs?
You can buy headlights from any auto parts store near you or online. However, buying online provides you with a much larger variety and the convenience of comparing the prices of different brands thus allowing you to make the best choice. 
Best led headlights: Conclusion
LED headlights are an intelligent choice for upgrading from halogen headlights. They are brighter thus providing additional visibility and making night driving safer. They are also a good investment as they help you save in the long run. Moreover, they can truly transform your car's appearance. But before deciding on a particular brand make sure that you read the above article and online reviews so that you can get the best-LED headlights for your car. 
Images: drivetribe