The LED headlight marketplace continues to get more and more competitive, with some impressive newcomers. This competition has also driven existing manufactures to improve their products. We're seeing brighter LED headlights with a more focused beam, which is great for us as consumers. With this, we've combed through and identified the best LED headlights for 2019.
Best LED Headlights 2019: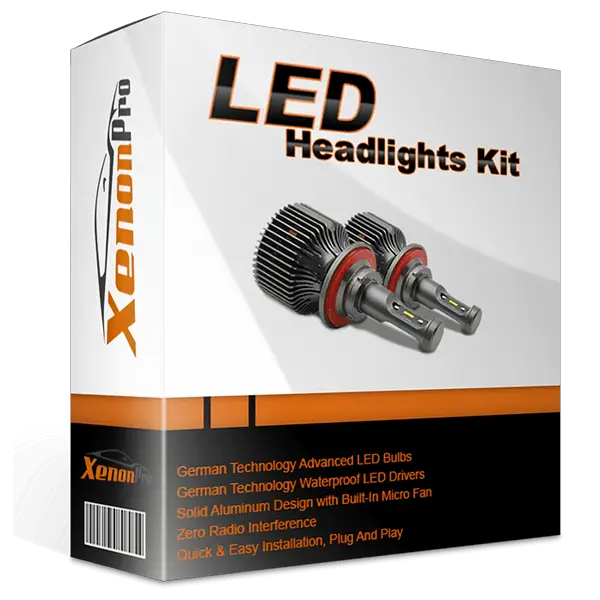 The Xenon Pro LED headlight conversion kit is at the top of our list due to their brightness and extreme clarity which is the result of advanced German technology. Moreover, these headlights are completely water, dust, shock, and rumble-proof.
Another amazing feature of the Xenon headlights is that they are available in a number of colors such as yellow, white, purple, and blue so that you can choose the one that you like best. They are up to 150% brighter than halogen headlights while saving on energy as they use only 45W for power.
The Xenon headlight bulbs enhance the experience of driving at night by clearly illuminating the road. The plug-and-play installation does not require professional expertise. You can easily do it yourself as it does not require any splicing or cutting and utilizes the factory bulb housing and wiring harness.
The built-in micro fans prevent the headlight bulbs from becoming overheated thus ensuring outstanding performance and longevity. There is no need for ballasts which ensures that these headlights fit easily into your existing factory bulb housing.
Furthermore, these headlight bulbs come with lifetime warranty and free replacements. This provides the customers with complete peace of mind as they can be sure that these headlights will last them a long time and even if they do encounter any problems they can always replace them without any extra charges.
Pros
150% brighter than halogen headlights
Easy and simple installation
Compatible with almost all vehicle models
Shock, dust, rumble, and waterproof
High quality materials used in the production
Durable aluminum design
Built-in micro-fan
Choice of four colors
No need for ballasts
Premium German quality assurance standards
Lifetime warranty; free replacements
Cons
Could remove the headlight flickering warning light and dash warning light in some vehicles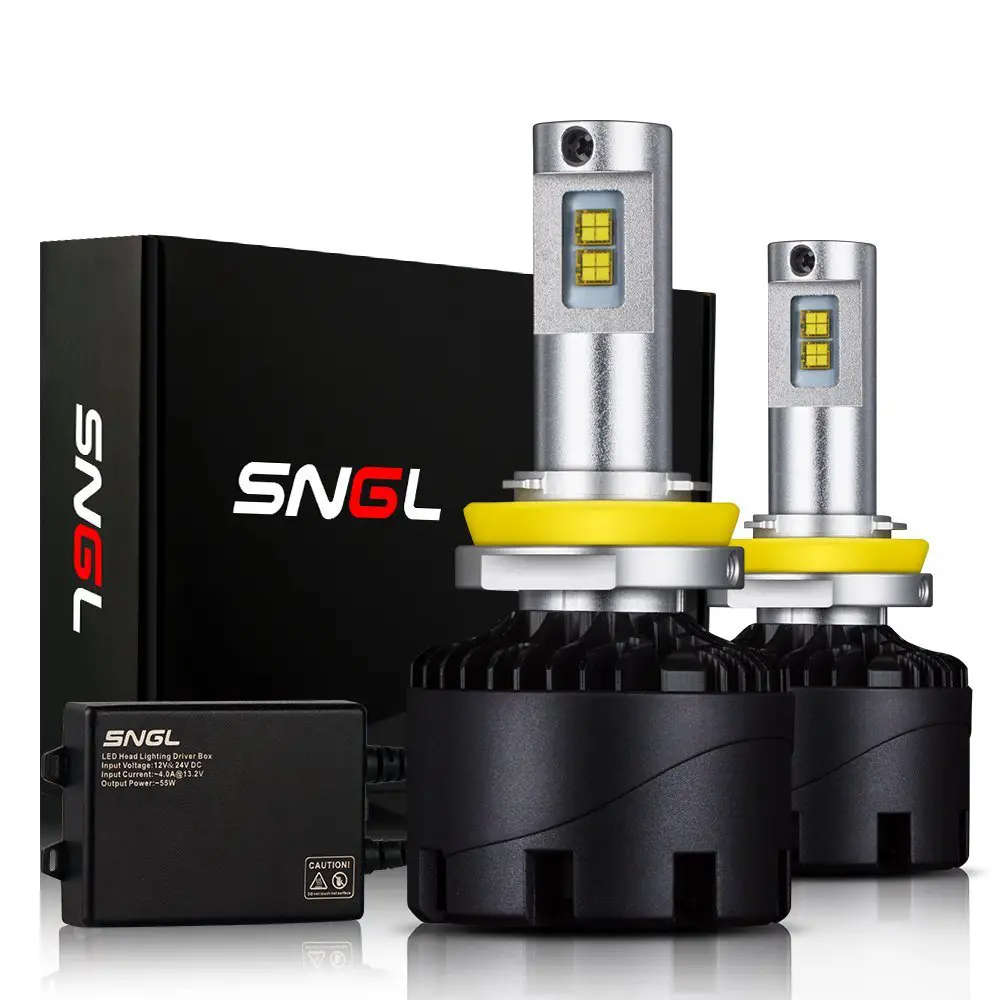 The SNGL Super Bright LED headlight bulbs are the only bulbs that use LumiLEDs LexeonMZ L.E.D. These bulbs generate the correct beam pattern suitable for the driving conditions with the help of a patented adjustable focus length.
These headlights are able to achieve high levels of brightness at 12,400 lumens with no foggy lights or dark spots thus providing a clear view to the drivers even on dark and hazy nights. The crystal clear 6000K white light makes your drive less stressful and safe as it clearly illuminates the objects and obstacles on the road.
The SNGL LED headlights are fitted with an improved intelligent cooling system that ensures that they have a longer life span. This cooling system is a combination of turbo cool fan and dual IC control driver which provide 50,000 hours of bright continuous light. Moreover, this cooling system prevents damage to the headlight components.
The SNGL LED headlights are CanBus ready which make them compatible with any vehicle's CPU. They are also vibration resistant and shock resistant which further increases their life span. Moreover, you can mount these headlights on most car models within half an hour.
Pros
Waterproof with a level of IP67
Offers high brightness at 12,400 lumens
True CanBus bulbs are compatible with various vehicles
Bulbs offer 50,000 hours of continuous light
Anti-glare technology prevents the blinding of oncoming drivers
Fitted with intelligent cooling system and turbofan to ensure a longer lifespan
Does not require warm-up time; instant light up
Vibration and shock resistant LED drivers with overheat protection
2-year free warranty
Cons
Installation is not plug-and-play
Professional help may be required for installation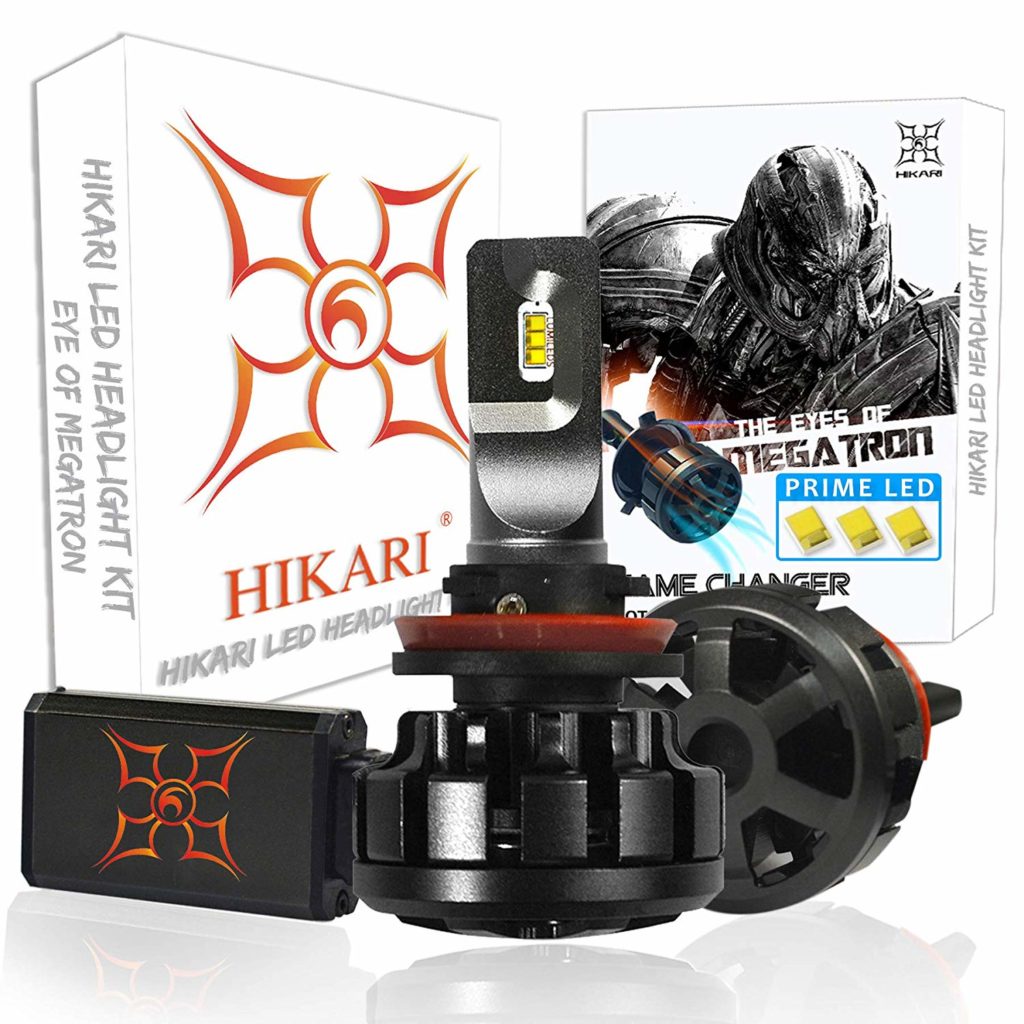 The HIKARI Ultra LED headlight bulbs make it to our best-LED headlight list as they provide a perfect and extremely bright light. These headlights are designed with the latest and most advanced technologies that are not offered by any other brand. You will love the stylish look they give to your vehicle.
They are rainproof and fog-proof thus allowing you to enjoy a smooth drive despite the weather conditions. The HIKARI headlights are manufactured by using the AI Frequency Technology that ensures a perfect light beam pattern without any dark spots.
These headlights are durable and provide up to almost 50,000 hours of continuous, flicker-free lights. They are also available in various sizes thus making them perfect for various models of cars. The plug-and-play approach of these headlights makes installation easy. You can easily replace your old bulbs with HIKARI headlights yourself. Moreover, they are compatible with the vehicle's CPU as well.
The built-in fans help to increase the lifespan of these bulbs while the contemporary design ensures that the light projects a wide arc of light across the road. The high quality LED used in these headlights produce 12000 lumens thus lighting up the road far ahead of you.
Pros
270% brighter than regular halogen bulbs
Ultra slim design
Uses less wattage
AI technology ensures consistent light beam without foggy patches
Fit all cars
Work perfectly underwater
Do not disturb the oncoming traffic
Only headlights that use LED type; CREE XHP50 + XM-L2.
2-year warranty
Cons
Can be a bit expensive
Could disturb the other drivers on the road if not fitted properly.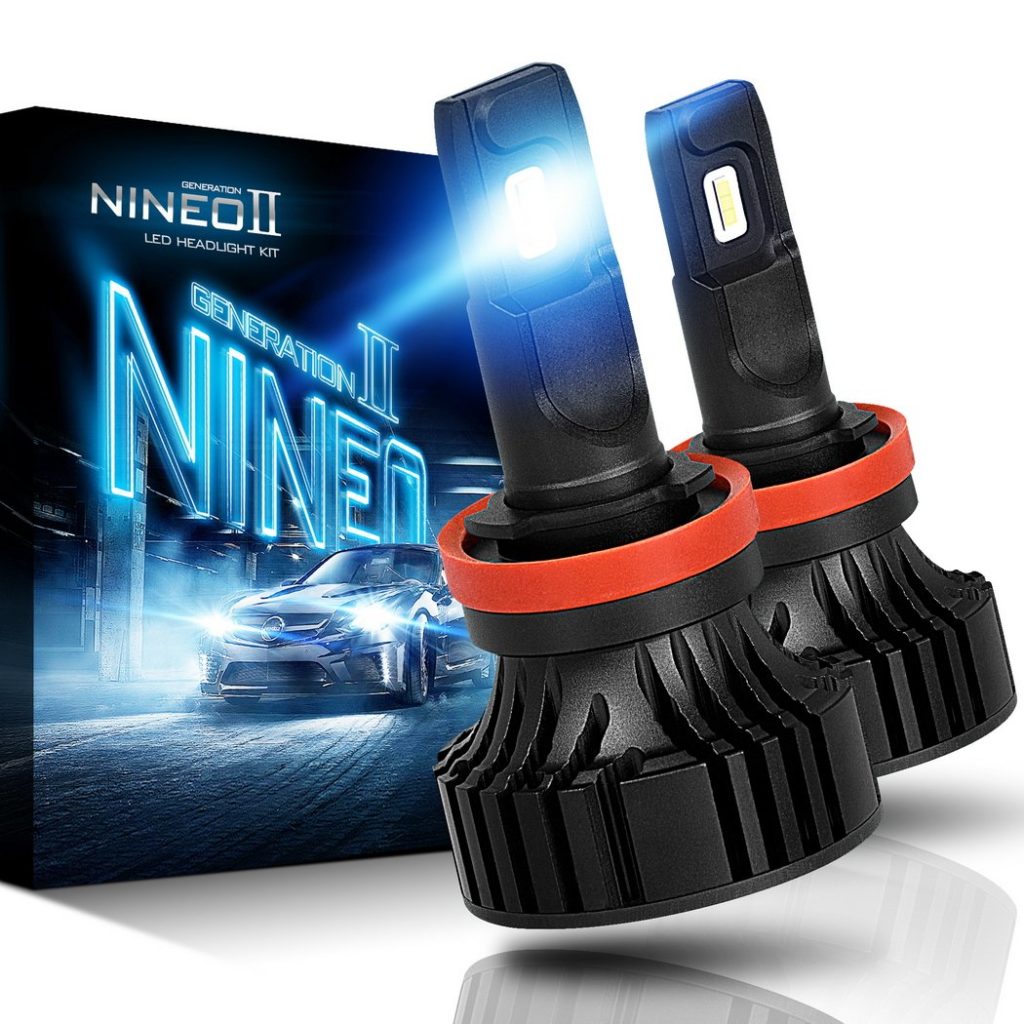 The NINEO LED headlight bulbs come with an intelligent control driver chip that helps monitor fan speed and maintain cooling. These headlights operate at 6000K with 12000 lumens per pair. Moreover, its advanced technology ensures a perfect beam without any dark spots.
The installation of these headlights is very easy and can be done within 20 minutes without any added wiring, capacitors, and relays. They are CanBUS-ready and do not interfere with the car's computer system.
The 360 degrees fully adjustable mounting collar makes it easier to properly align the bulbs thus ensuring correct beam pattern and perfect light output. These headlights come with automatic short-circuit protection, are twice as bright as conventional halogen lights, and last up to 50,000 hours.
The integrated fan and cooling chip provides heat and water protection and works even in the harshest conditions while the aluminum heat sink and turbo cooling fan promote a powerful heat dissipation that keeps this unit 30% cooler than your stock halogen.
Pros
Turbo cooling fan featuring 7000 revolutions per minute
Waterproof
CanBUS-ready technology is compatible with various automotive computer systems
Plug-and-play installation
Adjustable mounting
Five times brighter than halogen headlights
Maximum heat dissipation
3-year warranty
Cons
May experience flickering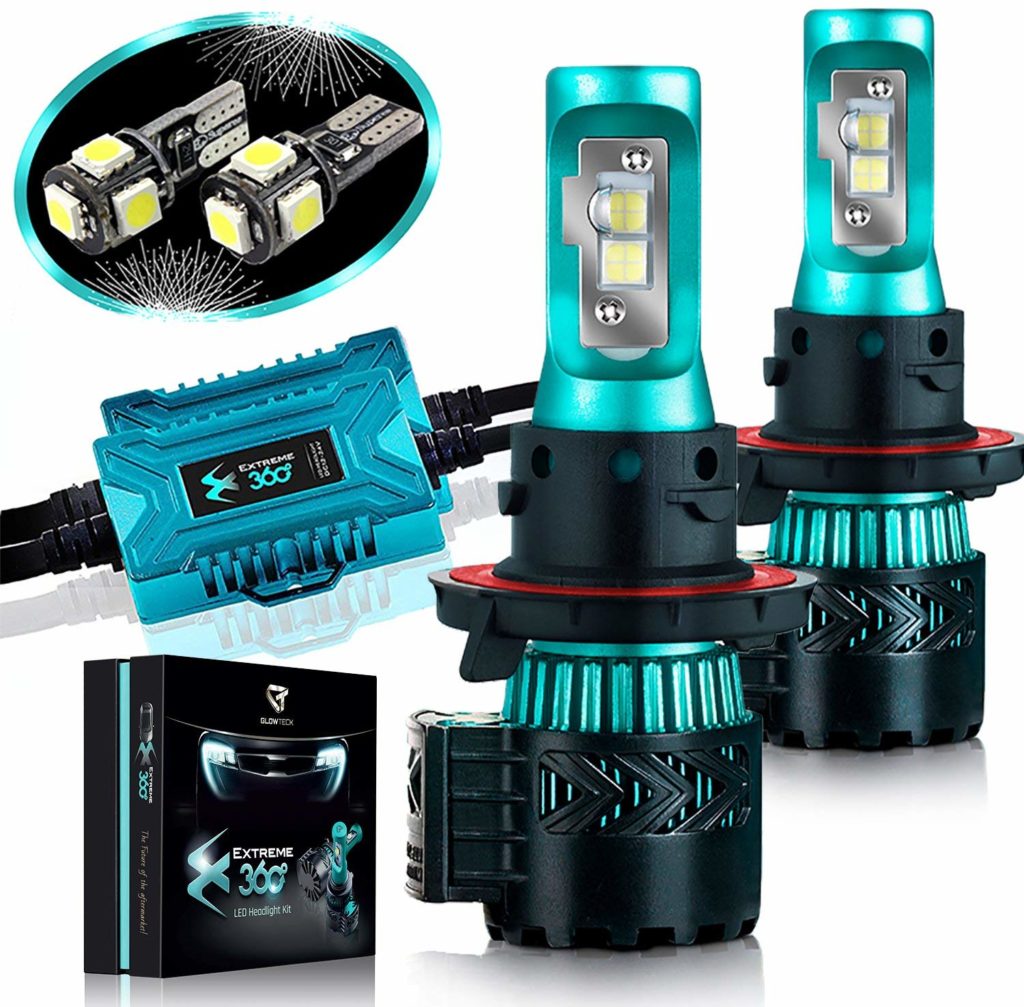 The Glowteck LED headlights are designed with the latest CREE XHP 50 LED Chip thus making them a great kit to upgrade from halogen headlights. They are on our list of best LED headlights as they produce 12000 lumens per pair thus providing brighter illumination. With an anti-glare body and spherical optical design, these headlights provide greater color consistency, reliability, and lumen density.
The AirFLUX dual cooling together with a dual Japanese ball bearing cooling fan and copper thermal heatsink these headlights ensure maximum heat dissipation. They have a longer lifespan of 40,000 hours and plug-and-play installation that ensures bulb replacement within 20 minutes.
The Glowteck LED headlights are fully adjustable thus making them compatible with various car models. They are suitable for fog light assembly, high beams, and low beams and ensure a clear and crisp white beam pattern for your vehicle.
Pros
Requires zero warm-up time
Adjustable beam pattern
Constructed with advanced technology
Provides 40,000 hours of clear light
Suitable for all car types
Easy installation
2-year warranty
Cons
May not fit some vehicles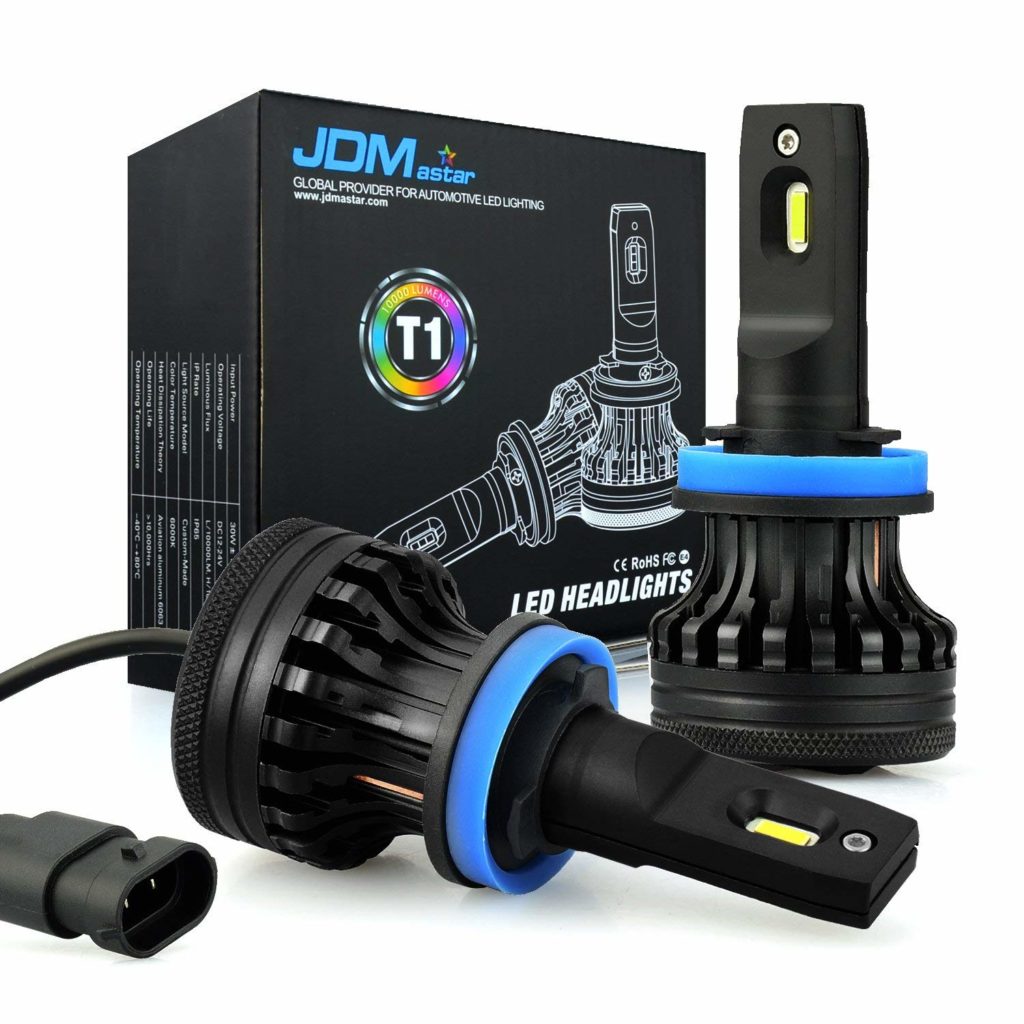 The JDM ASTAR T1 produces 10,000 lumens without requiring an external driver. The conversion kit contains everything that is required for an upgrade. These efficient headlight bulbs produce a light output of 6,500K. Their unbeatable price and unmatched performance make these headlights one of the best headlights available.
These headlights can be used as a fog lamp or headlight. Their aviation aluminum heat dissipation design ensures a longer lifespan of more than 20,000 hours. Moreover, they produce 100% more light as compared to a standard halogen bulb.
Pros
6,500K light
Lifespan of 20,000 hours
Non-polarity design
Excellent heat dissipation
Plug and play connector
IP65 waterproof rating
-40 to +80 degrees temperature range
1-year warranty
Cons
LED Headlight Buying Guide

LED vs. HID vs. Halogen Headlights. Which is best?
Halogen headlights emit a warm, bright white light which sufficiently illuminates the road. They are cost-effective, easy to replace, and have a reasonable lifespan of 450 to 1000 hours. However, these headlights generate a lot of heat which increases energy consumption thus placing a greater demand on the vehicle's energy sources.
HID or high-density headlights are typically brighter than halogens and LEDs, have a longer lifespan, provide brighter light over a larger distance, and consume less power than halogens. However, these headlights are more fragile, costlier, and have a strong glare that could disturb other drivers.
LED headlights require little power to function effectively. They are small, easy to install, brighter than halogen, perfect for night driving, and do not have a glare like HID headlights but are expensive and require cooling.

What to Look for When Buying LED Headlights
Headlight helps you see and be seen. Deciding to upgrade your vehicle's headlights is the easy part but figuring out which one will be best for you can be a bit challenging. It is important to consider various features before choosing one.

LED bulb color
It is not advisable to buy LED headlights that have a warm, yellowish light as they do not light up the road clearly. However, LED bulbs that have a temperature of more than 5,000 Kelvin mark are the safest headlight bulbs. These bulbs project light that is Daylight white and enables you to see the furthest and offers the widest view. They illuminate the road as bright as in daytime thus ensuring perfect illumination of the road.

Lumens
Light intensity is measured in lumens. Headlight bulbs that have a low lumen of 6,000 are typically available in bright or super bright color that provides adequate light for over 500m in a straight line. They project a light beam that is adequate and easily visible over great ranges. Headlight bulbs that have a lumen of 8000 are very powerful and illuminate everything within 700m in a straight line. Headlight bulbs with a lumen of 10000 illuminate the street as if it's daytime. These bulbs ensure that the night drive is safe and comfortable.

LED life expectancy
Many headlight bulbs have a life expectancy of more than 30,000 hours which is much better than the lifespan of halogen bulbs that have a lifespan of 6,000 hours. They have a built-in cooling fan or a cooling chip that ensures maximum heat dissipation.
On the other hand, there are LED headlight bulbs that have a life expectancy of more than 50,000 hours. They are designed with both cooling fan and cooling chip to keep them from getting warm. The fans in these headlights are more powerful thus effective heat dissipation in the case. This helps to keep the LED bulb better protected.

Warranty
Different manufacturers offer different warranties for their products. Some have a warranty of two years while some of three years. Manufacturers offer these warranty periods because they have confidence in their product. If you buy a product with three years warranty, you can have greater peace of mind. These manufacturers also offer free technical support so you can always call them in case of any problems.

Price
LED headlights are available at different prices. Low-priced units typically have a low lumen number; therefore, the light intensity is not so high, and the lifespan is low, but they provide a bright light. While the high-priced models, on the other hand, are usually the best products available. Although that is not a general rule, therefore, it is better to research carefully before choosing one. These LED headlights have a light intensity of more than 10,000 lumens. They have a long lifespan, and the light beam clearly illuminates greater distances.

Dedicated cooling
LED headlights generate a lot of heat that is why they come with built-in cooling systems. If the headlights get too hot, it can cause a problem; therefore, it is important to choose a headlight that has a high quality cooling system.

Local rules
Although, LED lights are widely accepted there are some communities that limit their usage. Therefore, it is best to know the local laws of the community so that you do not encounter any issues.

Installation
Most LED headlights come with the plug-and-play installation. These units do not require much time or effort, therefore, make sure that you choose one that does not require professional help.

What to Avoid When Buying LED Headlights
Headlights are an important feature of any vehicle that is imperative for the driver's safety. Therefore, it is vital that you choose a reputable seller so that you can be sure of the quality. Make sure that the headlights that you choose are compatible with your vehicle to avoid any problems.

LED Headlight FAQs

What headlights do I need?
The type of headlights suitable for a car greatly depends on its model and make. If you are unsure about the headlights suitable for your car you can contact your vehicle manufacturer or browse through your car's manual to make sure that the headlights that you have chosen for your car are compatible and will not cause any problem in installation.
You can also find the best headlights for your car by visiting the website https://www.sylvania-automotive.com/apps/vlrg-us/Vlrg/. This website is very simple to use. You can just enter your vehicle name or the part number and begin your search.

How to install LED headlight bulbs?
Most LED headlight conversion kits are plug-and-play. This ensures easy installation with minimum effort and time. The first thing to do is find the best LED headlight bulb for your car. Disconnect the wire connecting the halogen bulb and twist the bulb anti-clockwise to remove it. Replace it with your chosen LED bulb and twist it clockwise to fix it in place. Do not touch the LED bulb with bare hands as it may damage them.

Are LED headlight bulbs legal?
Typically LED bulbs are legal however the actual blue color is not permissible in some states. Make sure that are you are well aware of local laws regarding LED bulbs before investing in them.

How long do LED headlight bulbs last?
Good quality LED headlights can last up to 50,000 hours. If you drive more at night and use headlights for 10 hours every day, they are going to last you for more than 13 years thus making LED headlights a good investment.

Where to buy led headlight bulbs?
You can buy headlights from any auto parts store near you or online. However buying online provides you with a much larger variety and the convenience of comparing the prices of different brands thus allowing you to make the best choice.

Conclusion
LED headlights are an intelligent choice for upgrading from halogen headlights. They are brighter thus provide additional visibility and make night driving safer. They are also a good investment as they help you save in the long run. Moreover, they can truly transform your car's appearance. But before deciding on a particular brand make sure that you read the above article and online reviews so that you can get the best LED headlights for your car. 
Images: drivetribe