While driving your car along a two-way street during the night, have you ever experienced a passing car with the headlights beaming straight at your face, almost blinding you with its light? What do you feel? Annoyed? Alarmed? Disturbed? When faced with a discourteous and unsafe driver, these feelings are normal to have. But how did the simple headlights come to be this way? Why is it so important?
6 Best Aftermarket Headlights
#1 – XenonPro LED
#2 – OPT7 LED
#3 – Sylvania Silverstar Ultra
#4 – Philips Extreme Vision
#5 – OSRAM Night Breaker
#6 – Philips CrystalVision Ultra
Headlights or headlamps are not at first an essential part of any early vehicles. The earliest form of what you have come to know as headlights are called carbide lamps. Fueling the lamps is a gas that is constantly burned to create a light beam that will illuminate the paths ahead. What the inventors have created is an accessible, mountable light.
The wonderful invention was used in different industries like mining and eventually reached the car manufacturing industry. It was a revolutionary invention at that time, innovative but inefficient. The general public did not easily accept it. It had many problems, including the short lifespan of its bulbs and the unavailability of the technology to properly power the said lamps.
As the years went by and the technology of headlights was developed, it became an integral part of any vehicle. From bicycles, cars, and even airplanes, the headlights are a normal feature to be seen. It has become such an important part of any vehicle that a non-functioning headlight in your car will result in a hefty amount of fines.
Road safety is one of the best reasons why headlights have become such an essential tool in transportation. Various researchers have found that more than 50% of car accidents occur during nighttime. This fact makes it more essential to take road safety seriously.
Nighttime makes the road more perilous. Once coupled with the usual diminishing of visual cues while driving in the dark, driving without good headlights will endanger yourself or your passengers and other motorists. By bringing to you the list of the best aftermarket headlights, we hope to help you prevent any problems on the road.
Why would you settle for the cheapest headlights out there when you can get more bang for your buck? Just grab one of these, and you can rest easy knowing that you will be safe and secure with your choice.
To better aid you in making a decision, here are the details of the top six best aftermarket headlights: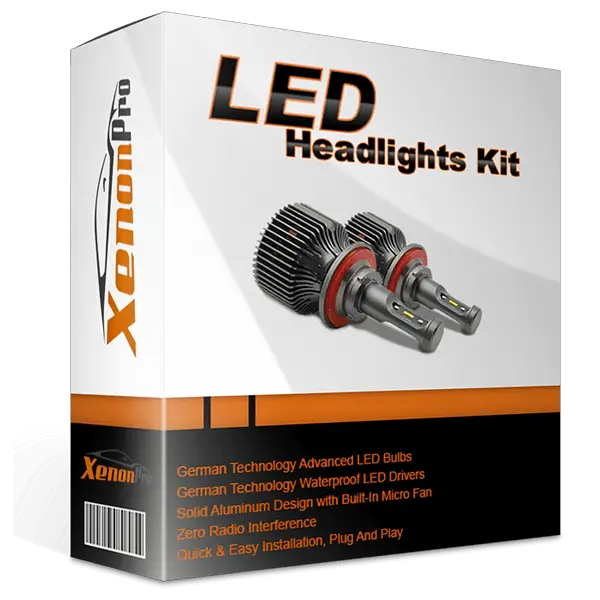 The XenonPro LED headlights are powered by super-charged LED chips and intelligent LED drivers, making them brighter, more energy-efficient, and longer-lasting than any other bulb on the market.
These bulbs produce a combined 9,000 lumens of brightness, nearly 30% more than the next best aftermarket headlights, and with a patented anti-glare technology that ensures you won't be blinding other drivers or getting into trouble with law enforcement.
The XenonPro LEDs also come equipped with a silent micro-fan that will keep your lights and headlight housing nice and cool. The intelligent LED drivers will regulate the power draw to prevent overheating or harm to your vehicle.
The XenonPro LED bulbs are designed to be a direct replacement for factory halogen bulbs, so you can be sure they will fit perfectly and that the installation will be a breeze. The lights also come with an industry-best lifetime warranty and are available in white, blue, yellow, and purple, although we recommend sticking with white.
When it comes to getting aftermarket headlights that produce a powerful, clear, and focused beam, cover a wide-angle, a long-range, and have an extended lifespan, the XenonPro LED headlights will give you the ultimate lighting and driving experience.
2. OPT7 LED Headlights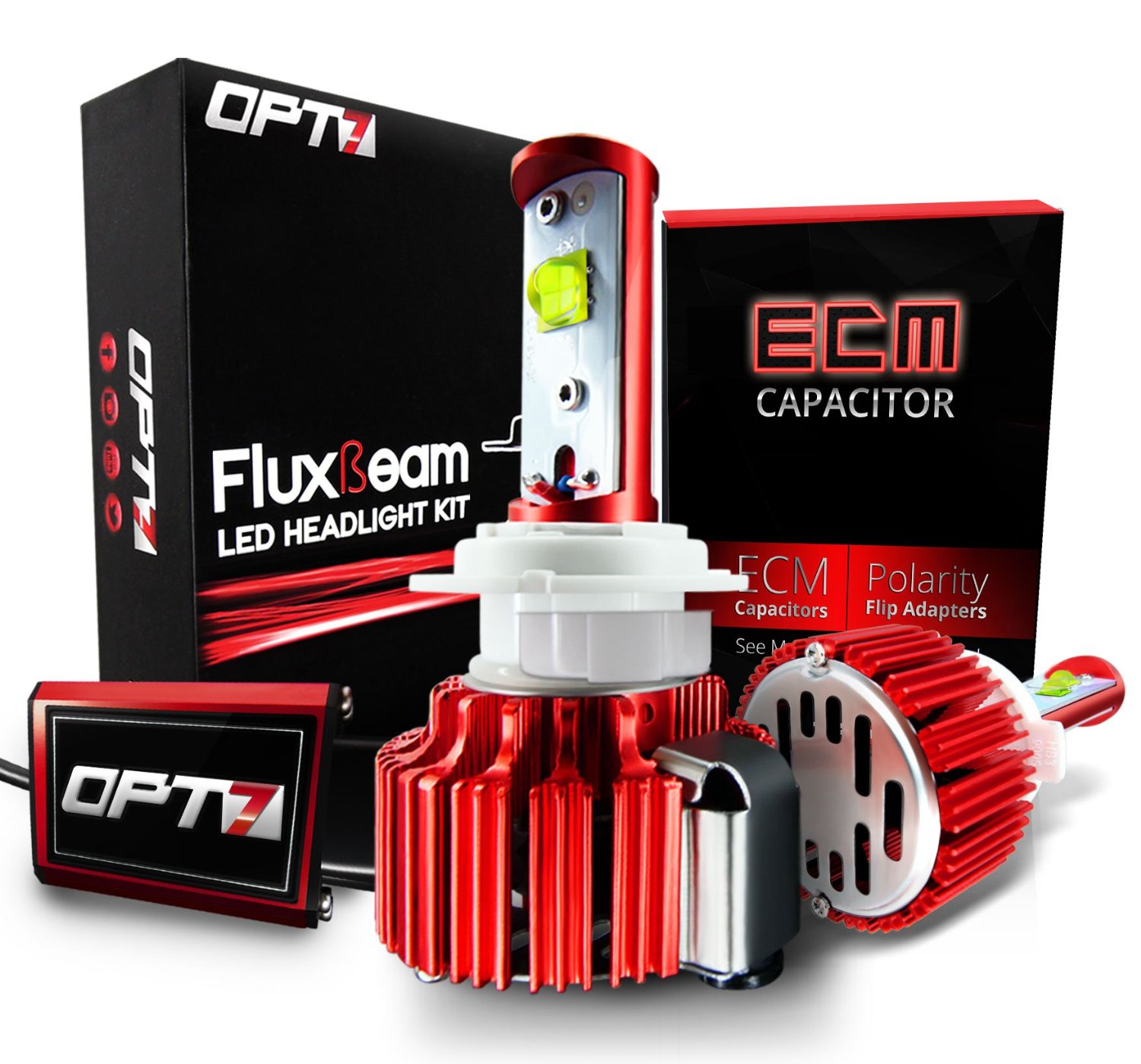 If you are more interested in something that not only illuminates clearly and well but is also durable enough to function at its best under extreme conditions, then this OPT7 LED Headlight is made for you. Each bulb is powered by a 6000K light-emitting diode that is capable of producing pure white light at 7000Lm. With state-of-the-art Cree-made LED bulbs powering this unique model, you can rest assured that what you are getting is one of the brightest LED headlights on the market today.
This OPT7 model is also designed to replace the original headlight bulbs in your vehicle and replace the stock housing and sockets of your headlights so you can be sure of a perfect, snug fit. Housed in a waterproof driver, housing, and fan, you can be sure that your LED headlights will function even in the most rugged of situations. Experience firsthand the durability and the proven versatility of this truly amazing product.
With improved in-house temperature controls and fans, you can face any obstacles that the open road can throw at you with peace of mind that your headlights are up to the challenge. Due to its hassle-free 20-minute installation and no-nonsense design, it truly deserves to be one of the best aftermarket headlights that you can buy today.
3. Sylvania Silverstar Ultra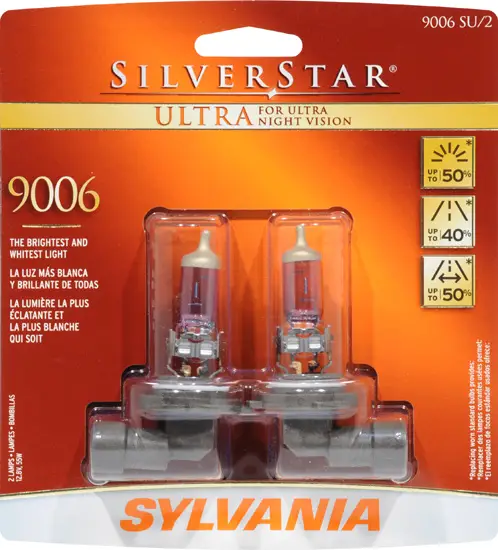 Made by Osram Sylvania — an automotive lighting company dedicated to delivering quality lighting fixtures with incomparable performance, you can be certain that your lighting needs are being met by one of the best aftermarket headlights manufacturers in the business. With the motto of seeing farther, see wider, see better, you can be sure that you are in the right hands.
The Silverstar Ultra is Sylvania's newest line of halogen-powered bulbs. Boasting a tungsten filament and halogen gas interior, this combination is dedicated to producing more luminescence for a brighter beam. Tungsten, being at its core, this particular bulb boasts a more resilient and durable bulb due to tungsten's unique low expansion, high melting point, and malleable strength characteristics.
The halogen inside the bulb reacts with the tungsten alloy to keep the glass clear and the beam constant. Upgraded road visibility and improved contrast are only some of the advantages that this model is capable of delivering. Let its performance speak for itself because with Sylvania Silverstar Ultra headlights, night vision is a thing of the past.
4. Philips Extreme Vision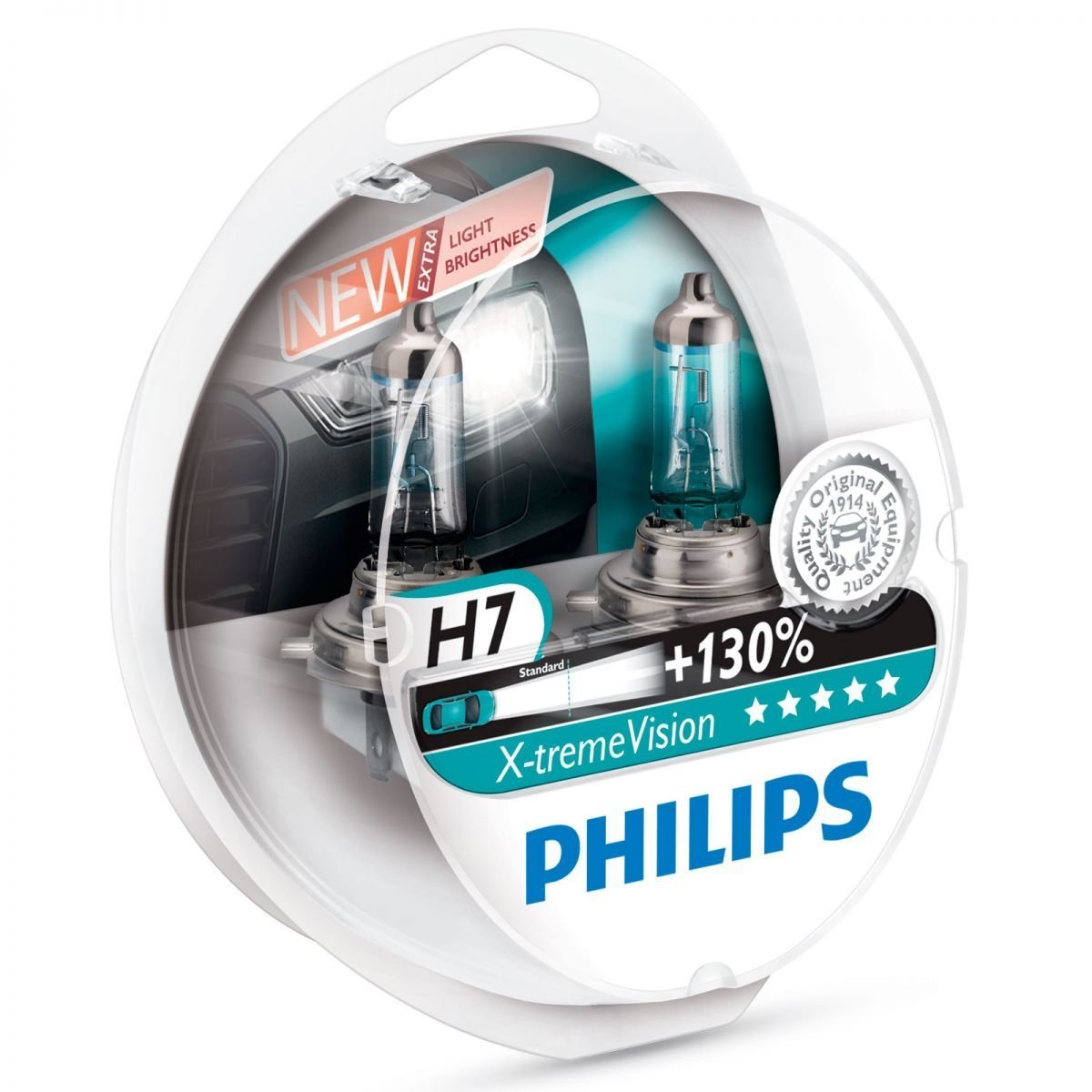 The Philips Xtreme Vision is the latest offering of headlights by the esteemed and well-known company. This classic brand is offering an innovative product that delivers 130% more illumination in a compact and space-saving frame. It comes in a neat twin pack that ensures equal clear visible lighting for your vehicles. With a design that bespoke efficiency in a solid compact housing, Philips Extreme Vision headlights are focused on delivering a powerful beam constantly, making it a strong contender to be the best aftermarket headlights brand.
Not only are they focused on delivering quality lighting, but they also ensure a custom fit for your automotive needs. It comes in a variety of designs and styles to better complement your car.
Philips' zeal for prioritizing efficiency and performance does not stop there. With the variety of offered options, you will get the same kind of powerful performance by delivering unique bulbs with 3500K and a 60/55W performance. Not only that, but each bulb is made of UV-Quartz glass.
Due to its better ultraviolet transmission capability and noted purity, this glass is considered one of a kind and highly specialized. It helps to deliver pure, clear light through its shockproof and temperature-resistant glass lenses. You cannot go wrong with these headlights on.
5. OSRAM Night Breaker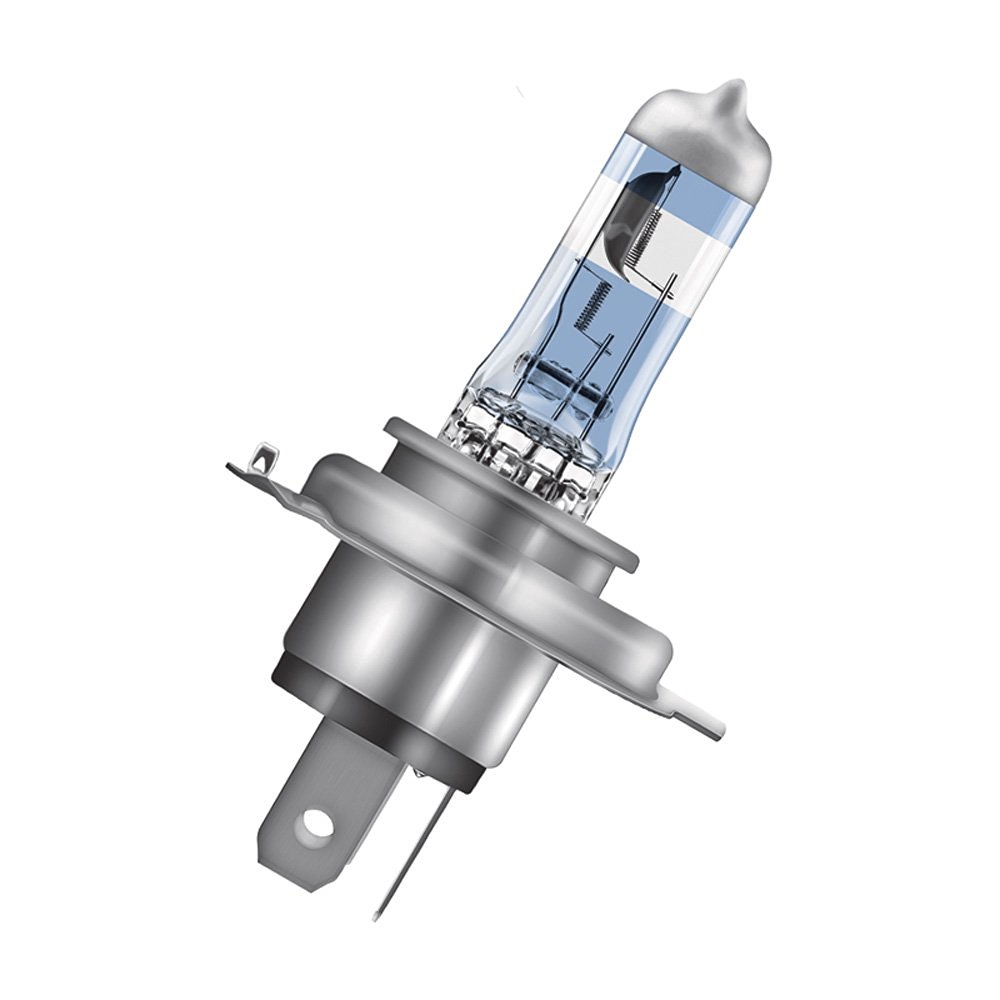 Another product from OSRAM manufacturing, Night Breaker is a halogen-powered state-of-the-art bulb that delivers a purer and brighter beam of light. It gives off 110% more light on the road and 40 meters longer beam than other models. By upgrading the luminescence technology within the bulb itself, it makes driving safer and more comfortable.
It is a strong competitor in the quest for the best aftermarket headlights with a cleaner and more efficient halogen coupled with an improved tensile filament. A clearer illumination reduces the need to squint and eye strain associated with harsh lighting conditions. With this kind of headlight, you will not look for anything else.
It comes in a solid twin pack package. Each bulb is guaranteed to pack a punch within its compact frames. With OSRAM-made headlights, you know what you are getting. You will receive a powerful package; durable, resilient, and adjustable with laser-quick responsiveness. OSRAM's latest offering — the Night Breaker, will surely keep the night at bay.
6. Philips Crystal Vision Ultra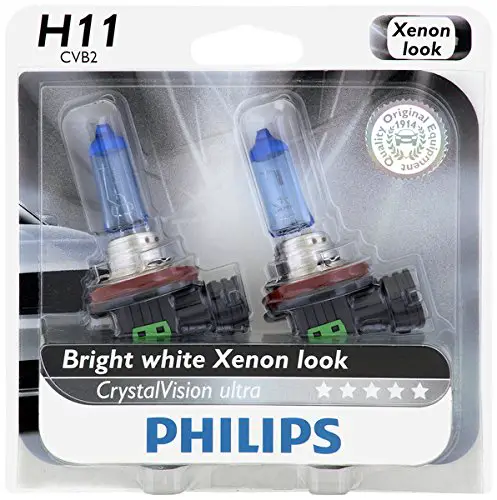 Another top product offering from Philips has cemented itself as one of the best aftermarket headlights you can buy. This exemplary, unique product produces a bright 4000K perfectly balanced white light that will be unmatched on the road. It boasts a xenon gas-filled halogen bulb. It is one of the rare types of headlights that use this kind of technology.
Using xenon gas to fill the bulb creates an arc of light that reflects brighter than standard halogen gas. This state-of-the-art arc beam technology allows this specific model to be more efficient and long-lasting than other bulbs.
Crystal Vision Ultra is the only model that is housed in a blue-capped bulb that creates more reflection in the headlamp reflector. It is also a Department of Transportation-approved product, ensuring the quality of the headlight itself and your safety as well. You can rest assured that you will not need any other headlights to illuminate your path by using the Philips Crystal Vision Ultra. Because with Philips' Crystal Vision Ultra, you can be sure that road safety is the priority.
HID vs. LED vs. Halogen Headlights
Before choosing the best aftermarket headlights that are well-suited to your discerning taste, you need some information about the different headlights available. Each function, each kind, has different characteristics that make one a great contender depending on your car's needs. In today's automotive industry, only three kinds are notorious for providing great service, light coverage, and for their durability. But, each type of headlight has its own specific advantages and disadvantages.
Halogen bulbs were one of the first kinds of headlights used in the automotive industry, mostly because of their adherence to the old use of a tungsten filament. This practice is a practical one, coupled with halogen gas. The tungsten filament reacts with the halogen gas, producing a brighter light than using the standard gas-less bulbs that the industry was used to.
Being enveloped by halogen gas did not only increase its luminescence but also made it more resilient. But, this kind of bulb is not energy efficient. The reaction between the tungsten and the halogen gas creates a lot of heat that cannot be converted to be used as light using this set-up. Also, due to the presence of the filament that easily corrodes, the bulb will eventually stop emitting light faster than other headlights like HID.
High-Intensity Discharge Lamps or HID headlights are the more recent type of bulb. This type of headlight is also filled with gas, but what sets it apart is that it does not need to use any kind of filament. It uses an electric discharge that reacts with the xenon gas that fills the light fixture. This reaction creates plasma that produces a light beam that the naked eye can view.
With this kind of reaction, the HID bulbs create a brighter light compared to halogen bulbs. The electric discharge technology used in this product also makes the light beam more adjustable. One could easily adjust the power of the light beam by controlling its electrical discharge output. But, accompanied by its more efficient light production process, HID headlights have a notoriety for producing glare that limits other drivers' visibility on the road.
The last type of headlight is the Light Emitting Discharge or LED light. It presents a more maneuverable lighting fixture. Its relative compactness can be positioned and angled unobtrusively in your vehicle. Recent technology also made it more responsive and adaptive. It can switch from low beam to high beam in a flash. It can also light directly ahead with minimal glaring due to the spread of its light beam to the side and in between cars.
It is energy-efficient, requiring a fraction of the energy needed to power halogen bulbs, and it does not produce heat when it emits light. Though this may be the case, LEDs emit heat at the bottom of the chip, making it a hazard to the other connective cables inside the chassis. This vulnerability can be resolved by installing a cooling system, making it more expensive and harder to work with compared to other headlights.
Hopefully, this information has helped you see the pros and cons of each type. Use this information in choosing which of the best aftermarket headlights is suited for you and your vehicle.
Color Temperature Considerations
Now that you already have an idea of the type of headlight that you are more interested in, it does not stop there. You also have to take note of the kind of hue and intensity of the light beam that you need on the road. The color of the light does not indicate the emission of heat or the temperature of the bulb itself. The hue of the light varies. The lower light color temperature is on the Kelvin scale. The yellower it gets, the more it limits your visibility.
The higher it gets on the scale, the bluer the light becomes. Blue light is said to be kinder to the eyes. It helps prevent eyestrain, and it gives more natural lighting. What is important is that you prioritize what you need.
If you love driving off-road, maybe what would be more useful for you is something that produces a bright clear white light to increase visibility and to help you avoid obstacles along the road. If you are more of a city driver, then maybe a headlight that emits a slightly bluer light will make it more comfortable for you.
What to Look for among the Best Aftermarket Headlights?
Other than taking note of the type and the kind of color that you want your headlights to emit, what will be beneficial is to consider your budget when looking for the best aftermarket headlights. Your budget will often indicate the kinds of bulbs that will be available to you, thus narrowing your options much faster.
The second thing that would be beneficial to you is to consider what you need. Ask yourself in what kind of situations will you use those headlights and plan accordingly. By doing so, you could prioritize and focus your search for the best aftermarket headlights that have the specific characteristics you are looking for. Are you more concerned with the bulb's lifetime or its power?
Lastly, you should also note its wattage. The watt indicates its level of luminescence. The higher the watt, the brighter the light it produces. On average, what would be considered a respectable headlight would play with a color temperature of 5000K to 6000K and a 55W to 65W light.
Best aftermarket headlights: Conclusion
Whatever your choice is, the important part is that you have the right headlight that is perfect for you. Headlights are integral pieces of equipment in your vehicle. They deserve the same attention that your car engine or your windshields receive. Selecting your best aftermarket headlights is not a laughing matter because your safety could depend on them.