These are the top 4 best headlights for night driving. Driving at night can be a difficult and scary experience, especially with poor or worn-out headlights. But with the right equipment, driving at night can be much more enjoyable.
4 Best Headlights for Night Driving
The following are the criteria for the selection:
Quality of the bulbs
Color options available for each model
Ease in which the bulbs can be installed
Sizes available
Price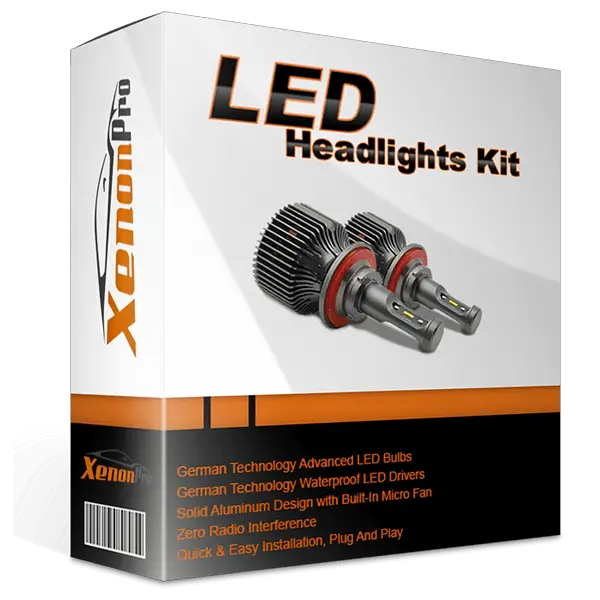 XenonPro LED Specs:
37 Size Options including:

H11, H3, H1, H7, H8, H19, H16
H4, H13, HB2
9003, 9004, 9005, 9006, 9008, 9012, 9040, 9045, 9140, 9145
2504, 5202
880, 881, 885, 886, 889
+ 10 more

4 Color Options:

3000K (yellow)
6000K (white)
8000K (blue)
12,000K (purple)
Service Life: 45,000 hours
Plug & Play installation: Installation should take around 20 minutes
Lifetime warranty
LED headlights are the new headlight technology that's got everyone buzzing. A great percentage of car owners have shifted from halogen headlights to much-brighter LED headlights since their introduction in the market.
*** Note: If your vehicle is not equipped with HID headlights, you'll need an HID conversion kit.
Kensun Xenon HID Specs:
8 Size Options:
10 Color Options:

3000K (yellow)
4300 (yellowish-white: most vehicles come stock with this color)
5000K (white)
6000K (white with a hint of blue)
8000K (light blue)
10,000K (blue)
12,000K (deep blue)
15,000K (darker blue, may appear purple)
20,000K (purple)
30,000K (deep purple)

Plug & Play installation (for most vehicles). Installation should take around 20 minutes
HID stands for 'High Intensity Discharge.' The HID Xenon Low Beam Headlight is different from halogen bulbs because it does not have the glass filament of the halogen bulbs. In its place is a glass chamber of gas. It requires a ballast to be connected to the car battery to function.
When you turn on an HID headlight, the ballast shoots a 23,000-volt charge to the gas chamber to light it up. For the duration of your night drive, the HID headlight stays illuminated at a constant of 12v, power that is delivered to the headlight by both car battery and ballast.
This is the technology that is distinct from HID Xenon Headlights. With it, the HID Xenon is able to provide greater light than halogen bulbs while also consuming less power from your car. If that does not deserve a top 4 best headlight for night driving, we don't know what does.
Another great feature of the Kensun HID Xenon Low Beam Headlight is the choice of color. If you are the night-time driver who finds white light too boring and prefers to liven up your nighttime driving with a shot of color on the road, then the HID Xenon is for you.
The color range of the HID Xenon Headlight varies from yellow, bright white-yellow, pure white, bright bluish-white, light blue, blue, dark blue, and even blue indigo. It is guaranteed that even their blue color range gives better nighttime illumination than the standard white or yellow halogen bulbs. It is sure to answer both your color and illumination requirements.
Generally, blue headlight bulbs make night driving more difficult than white. However, some opt for blue headlights closer to the white end of the spectrum.
The downside of the Kensun HID Xenon Low Beam Headlight is that it is not 'plug and play.' Unlike their halogen counterpart, which you can install right after purchase, installing the HID Xenon is a bit more complicated.
Even though the product instruction says 'plug and play,' disregard it. Installing any headlight with a ballast will require the skill of a professional regardless of what the product manual says. If you want a clean installation of a pair of HID headlights, visit your local mechanic.
Letting the pros install it will save you time re-installing it because you did not do it properly. So do yourself a favor and let a skilled car technician manage this for you.
#3 – OPT7 LED Headlight Bulb with Clear Arc-Beam
*** Note: This kit includes all hardware to install these bulbs. You do not need a separate LED conversion kit. This product includes the parts to convert your halogen or HID headlights to LEDs.
OPT7 LED Specs:
Available Sizes:

H1
H3
H4 (9003)
H7
H11
H13 (9008)
880
5202
9005
9006

Available Colors:

6000K (white with a hint of blue)

Service Life: 50,000 hours
Plug & Play Installation: 20 minute installation
2 Year Warranty
Consumers only have high praises for these new and improved headlights. For our top 4 list, the OPT7 LED Headlights Bulb with Clear Arc Beam tops all other LED headlights. The guys at OPT7 really did their homework with this one. Yes, it is a bit pricier, but well worth the extra buck because of its state-of-the-art features.
First of all, it is waterproof. The worst nighttime driving condition that you can possibly find yourself into other than driving under the influence of alcohol is – RAIN. Nothing spells danger than driving at night in the rain.
The LED Headlight Bulb with Clear Arc-Beam is your best protection against rain. It will ensure your safety while driving in a downpour because it will not conk out on you even if it gets drenched under the rain. It's waterproof!
Its second best feature is the Arc-Beam Lens Technology. The LED Headlight gives you a focused white light on the road. No scattered light, no foggy light, no dark spots, no short beams.
The LED Headlight Bulb and its Arc-Beam Technology are almost like having a spotlight on the road. It is guaranteed to generate a pair of steady, focused, bright white light even in the heaviest of downpours at night. Nothing spells 'safe drive' than the LED Headlight with Arc Beam Technology.
You are probably thinking, 'an expensive and high technology LED headlight will require the extra expense of letting the pros install it.' You'd be surprised this particular LED Headlight is a genuine plug-and-play pair.
Don't let the high technology features intimidate you. The LED Headlight with Arc Beam Technology can be installed right out of the box after purchase. It is specially designed to fit right into any car and plugs right into any car computer system. Installing it is as easy as installing a light bulb, seriously.
Another great feature of the LED headlight is it guarantees a whopping 50,000-hour life span. Means the headlights are functional even if you keep them working for up to 50,000 hours on end.
Any other LED headlights would shut down on you at half this time. But since the OPT7 LED Headlight has CREE MK-R LED technology, it goes on like the energizer bunny. How does it do that? It can reduce heat by 35% with its cold-pressed aluminum heat sink. Plus, its dual turbo cool fan spins at 7000rpm, allowing it to regulate both heat and airflow inside the headlight.
With all its added features and long-life guarantee, it does not matter if it is the most expensive of the top three headlights. The LED Headlight with Arc Beam technology is more than worth the investment.
#4 – PIAA Xtreme White Plus Halogen
Specs:
Available Sizes:

168
880
881
9004
9005
9006
9007
H1
H10
H11
H11B
H13
H3
H4
H7
H8
H9

Available Colors:
Plug and Play Installation
1 Year Warranty
Studies have shown that a bright white halogen headlight increases visibility during nighttime driving. The same cannot be said for the all too common yellow halogen bulbs.
White light just has a better and wider capacity to illuminate than yellow light. This is why the PIAA Xtreme White Plus Halogen Bulb is in the top 4 best headlights for night driving. It just delivers on the 'extreme white' light promise.
With its 4000 kelvin illumination, your nighttime drive is sure to be a much safer driving experience. It is a guarantee that with the PIAA Xtreme White, you will have ample time to avoid all the 'proverbial deer with the headlights' you are bound to encounter while driving on the road at night.
In terms of color choices, there is only one – white. But then why would you want any other color if safety is your main concern, right? Installation-wise, unlike other bulbs requiring the complicated process of connecting ballast to bulb and car, the PIAA Xtreme White is a quick install.
There is no need to drive by the mechanics' shop and get a professional to attach the bulb to your car. It is, as they say, 'plug and play.' It is a perfect pair of headlight bulbs if you are a stickler for time.
How to Purchase the Right Headlights for Night Driving
Your safety on the road while driving at night will depend on the pair of headlights your car has on while you are driving. Purchasing the right pair of headlights for your car is probably the single most important accessory you will make as a car owner and driver.
How to pick the right set of headlights for your car? There are three types of headlights out there in the market. They are the halogen headlights, the xenon headlights, and the LED headlights. The top 4 best headlights discussed cover each of these 3 types of headlights.
What is a Halogen headlight? It is a bulb composed of a slim tungsten filament tube or capsule made of glass. This capsule is filled with halogen gas. The way it works is that when the bulb is powered on the halogen gas, it is routed back to the tungsten filament, regenerating it into white, bright light.
The Xenon headlight is similar to the HID headlight. An HID bulb is a system that is sealed containing Xenon gas, which is charged. This bulb emits light when two electrodes are charged with electricity.
Often, Xenon headlights are connected to a car battery through a ballast. The ballast is where the electrical charges that power the Xenon is generated.
LED is short for 'Light Emitting Diode.' It is a diode that serves as a semiconductor. It emits light when voltage is applied to it. The LED is different from halogen and xenon in this manner. It is actually more versatile, allowing headlight designers more leverage in terms of designing LED headlights.
Every driver and the car owner will have different requirements for choosing the best headlight for their car. So in order to aid your choice of headlights, between the halogen, xenon, and LED options, here is a comparison of the 3 headlights.
HALOGEN
Halogen is the best option if you want a strong, consistent bright white light for your nighttime drive. It is probably the most popular of the 3 types of headlight because it has been around the longest. Between halogen, xenon, and LED, the halogen will provide more product options to choose from. This means that they are easy and inexpensive to replace.
The disadvantage of purchasing halogen headlights, though, is it is more volatile and, therefore, more dangerous to handle than xenon and LED. So be extra cautious when replacing them since they have been known to have adverse reactions to certain substances. Also, halogen bulbs do not handle heat very well. In fact, they are known to generate extra heat when in use. They are also not very energy efficient.
XENON
The range of illumination of a Xenon headlight is so much better than that of halogen headlights. They are more energy and cost-efficient with a longer life span than halogens.
A complaint about the Xenon headlights, though, is it creates more glare than halogen headlights. This can be distracting for other drivers and has been known to cause accidents on the road. So make sure your Xenon headlights are set to the right level when driving at night. Set it too high, and it could be dangerous for other drivers. Another disadvantage is the cost. Xenon headlights are more expensive than halogen.
LED
If you have the budget for it, LED is the best headlight technology out there at the moment. It is energy efficient. It needs far less energy to power than halogen and xenon combined. In terms of size, LED is smaller than its competition, which means it can be designed to fit any car.
On the downside, like what is said, it is expensive. All that technology will cost you. And unless your LED headlights have a cooling technology installed so that it does not go bust on you because of the heat, then there is no reason to purchase it.
If you purchase an LED headlight, make sure it has cooling technology. That is the only way you will be able to use those LED headlights far longer than xenon and halogen.
So, in terms of purchasing the right headlight for your car, the questions to ask really are price range, durability, and the quality of the light you want from your headlights when driving at night.
Night Driving
No one likes driving at night. It is probably the least liked driving condition for car owners because of its dangers.
First, the beams of oncoming headlights from other cars can be a distraction.
Second, you are likely driving tired after a long day at work, and reflexes are not at their optimum.
Third, the road in front of you is only visible at a maximum of 200 to 300 feet. This means you have a fraction of a few seconds to respond to anything that stands between you and that 300 feet stretch of visible road.
Fourth, it is a known fact supported by data from the US National Highway Traffic Safety Administration that half of all traffic-related accidents happen in the dark of night.
So yes, when it comes to nighttime driving, the cards are clearly stacked against you, the driver. This is why it is imperative to balance the scales towards your safety on the road by getting the best headlights for night driving installed in your car.
Headlights are the sets of lamps that are connected to the front of your car, specifically located at the right and left edge of the car hood. Their sole purpose is to allow you to drive your car at night because of the nighttime illumination they provide.
Can headlights be used for daytime driving? Yes. But it is rarely used for that purpose, only when road visibility or state laws require it.
Headlights were added into the design of cars primarily to allow for nighttime mobility. They are there to allow you to drive your car at night. They are also there to signal other drivers on the road that another driver is on the other side approaching them.
Headlights keep drivers safe at night while driving. Through the years, headlight technology has improved along with the technological improvements of the vehicles that go with them. These days, depending on the car model and your specific requirements as a driver, there is a range of headlights that you can choose from that are sure to address every need.
Conclusion
I hope my recommendation for the top 4 best headlights for night driving has proved useful for you.
These three halogen, xenon, and LED headlights are the best on the market at the moment. They are sure to provide you with the right nighttime illumination even under the worst weather conditions.
Give them a shot and install either one of these three headlights on your car now.
Invitation to give feedback
If you do decide to give one of the top 4 headlights a shot and make the purchase for your car, I would very much appreciate it if you could drop by here again in the future and give me feedback on how your choice of headlights performed. Thanks!