The brightest LED headlight bulbs can really upgrade your nighttime visibility. Replacing your low beam original halogen bulb is most common. However, many choose to replace their high beams and fog lights too so that they all match and provide maximum light output.
Best Overall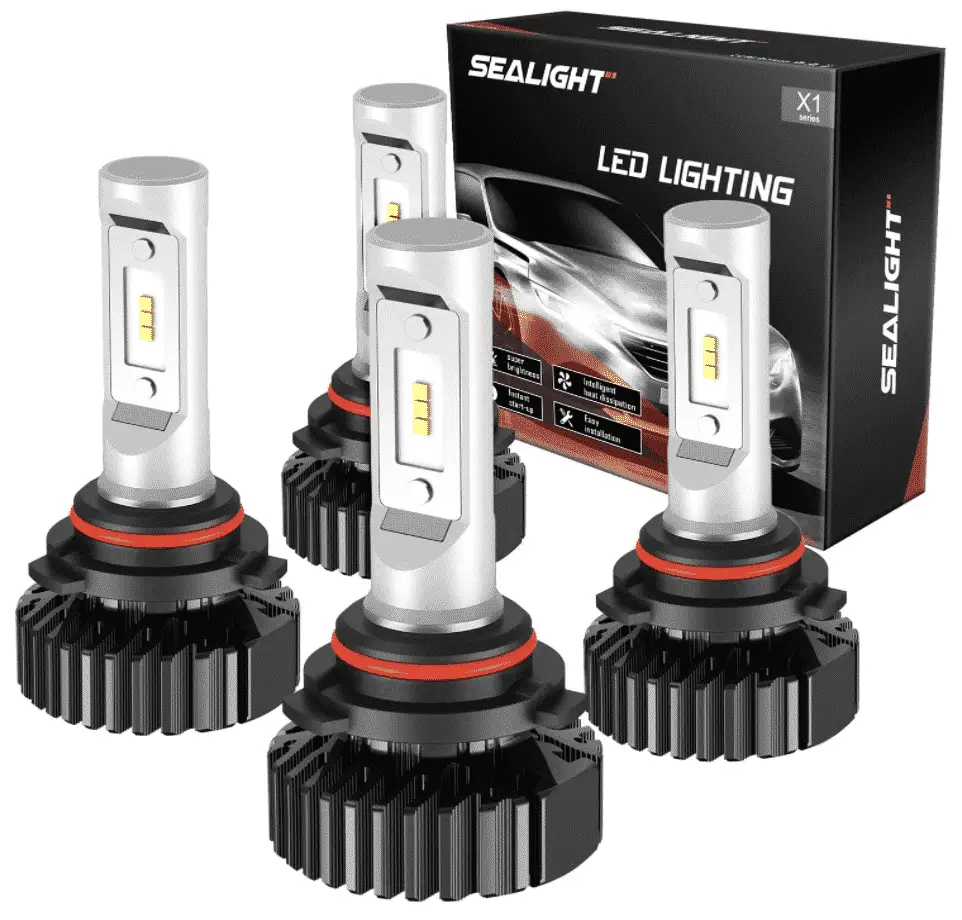 14,000 lumens
6000K color temperature (white)
Slim fan-less heat sink
Best Premium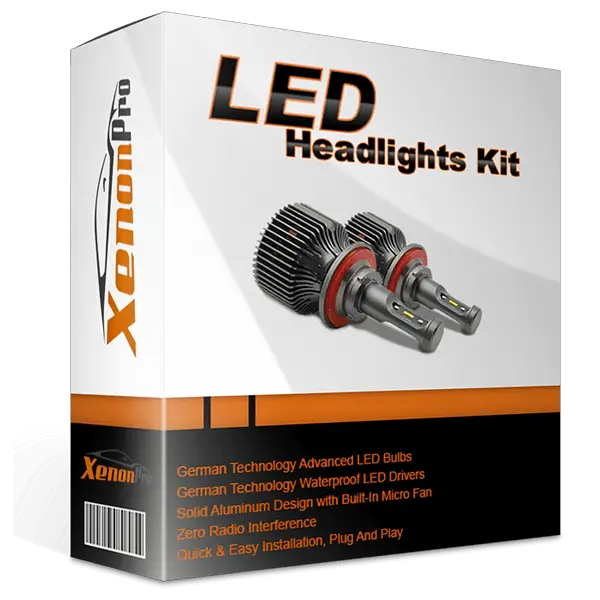 9,000 Lumens
6000K color temperature (white)
Lifetime warranty
Best Value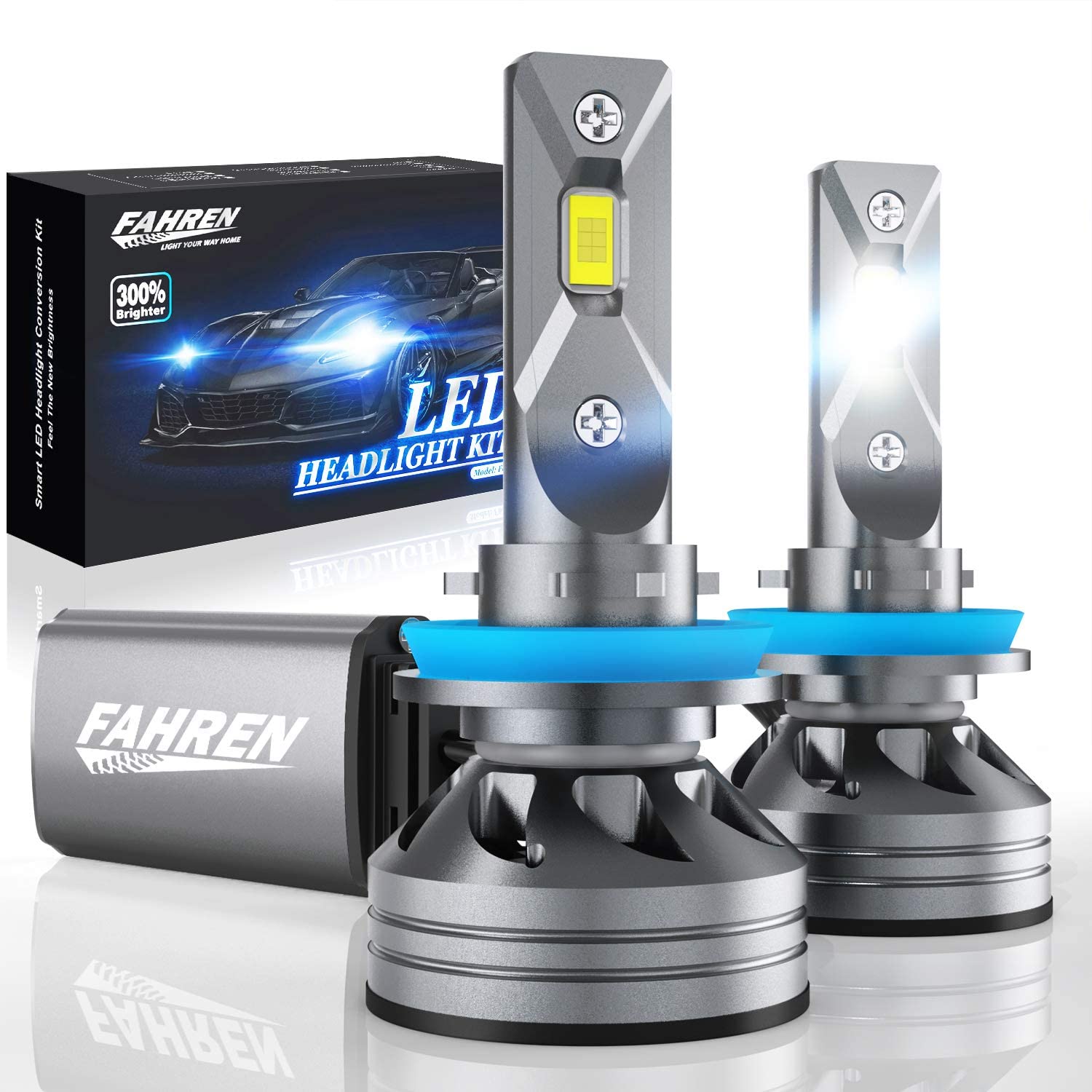 10,000 lumens
6500K color temperature (cool white)
50,000 hour lifespan
Aftermarket LED headlights can be used in a reflector headlight or projector headlight, newer and older vehicles, and come in various price points. Regardless of your situation, if you're anything like us, only the brightest headlights will do when upgrading your headlights.
It's not only about bright headlights though, getting all that light pointed in the right direction and on the road ahead is critical. You must have brighter light and also proper bulb positioning. High voltage LED headlights bulbs can really produce a lot of light, but the bulb design needs to be dialed in too.
Considering all of this, we've created a list of the brightest LED headlights for 2022. We hope you find this helpful.
Specifications:
Brightness: 14,000 Lumens (7,000 Lumens per bulb)
Color: 6000K (white)
Heat Sink Type: Fan-less, corrugated aluminum
Warranty: No warranty offered by Sealight
Performance Scores:
| | |
| --- | --- |
| Light Output / Brightness | 10/10 |
| Down-Road Light | 9/10 |
| Bulb Fit | 10/10 |
| Combined Score | 29/30 |
Unique Advantages:
| | |
| --- | --- |
| Advantage | Benefit |
| Slim Heat Sink | A narrow heat sink allows this headlight to fit more vehicles without modification. When the space behind the headlight housing is minimal, this becomes critical. |
| Fan-less Heat Sink | Moving parts will fail eventually. A fan-less heat sink is effective and will never fail, extending the life of the bulb. |
| High Lumen Count | Lumens measure the amount of light from a light source. More lumens = more light. |
Rationale For Award Given: Best Overall
We awarded the Sealight X1 LED headlight bulbs as our Best Overall for these reasons:
High lumen Count: 14,000 lumens is excellent light output. Users will see a very significant improvement over OEM halogen headlight bulbs.
Fits Most Vehicles: with a slim heat sink, these LED bulbs will fit most vehicles. There is often very little space behind headlight housings, and large heat sinks on other bulbs require modifications or are unable to install the bulbs.
Bulb Color: The Sealight X1 LED headlight bulb throws a 6000k light color temperature. This would be described as white or cool white. This closely resembles the color of the sun, making it the ideal color for the human eye.
Reasonable Cost: It's not the highest cost LED headlight bulb on the market, nor is it the lowest. They cost slightly more than a pair of high-end halogen bulbs, which is expected.
Pros & Cons:
| | |
| --- | --- |
| Pros | Cons |
| High lumen count | No warranty is offered by the manufacturer |
| Slim heat sink design | |
| Plugs directly into factory wiring harness | |
| Fan-less heat sink for longer bulb life | |
| Ideal light color (6000K, white) | |
Product Design & Impact:
Simple & Effective Design: these bulbs are designed in a way that allows you to remove the factory halogen bulbs from the headlight housing and replace them with these. Installation is as easy as removing the old with the new. The wiring harnesses plug directly into the factory wiring, so no modifications are needed.
No Moving Parts: Many LED headlight bulbs offer to cool with tiny fans. Moving parts eventually fail. These Sealight LED bulbs are designed with corrugated solid aluminum with no moving parts to dissipate heat. This is a more elegant design that promotes a bulb with longer life.
Proper LED Chip Positioning: These Sealight LED headlight bulbs are designed to place the source of light where the original OEM headlights were. In other words, reflective headlight housings are designed to reflect light from a very specific place. If the light source is not aligned with the design of the housing, the light from the bulb will not make it onto the road in front of the car properly. These bulbs align with the factory housing to optimize the amount of light you see on the road as you drive at night.
Summary:
The Sealight X1 LED headlight bulbs were awarded the "Best Overall" for excellent light output, elegant design, versatile fit, good value, and ideal color temperature. You can't go wrong with these.
Purchase Options:
Specifications:
Brightness: 9000 Lumens (4,500 lumens per bulb)
Color: 6000K (white)
Heat Sink Type: Solid Aluminum w/ Built-In Micro-Fan
Warranty: Lifetime warranty
Performance Scores:
| | |
| --- | --- |
| Light Output / Brightness | 8/10 |
| Down-Road Light | 10/10 |
| Bulb Fit | 10/10 |
| Combined Score | 28/30 |
Unique Advantages:
| | |
| --- | --- |
| Advantage | Benefit |
| Lifetime Warranty | A lifetime warranty is becoming rare in the world of LED headlights. This warranty from XenonPro is one of the best on the market. |
| Available in 4 Colors | Comes in white, yellow, blue, and purple. White is the best color for optimal night driving. Yellow is popular for fog lights, especially combined with blue headlights. And purple will make your vehicle really stand out. |
| Anti-Glare Tech | It's common for less expensive LED headlights to put out significant glare on other oncoming drivers. These XenonPro LED headlights are built specifically to not throw glare in the eyes of other drivers. |
Rationale For Award Given: Best Premium
We awarded the XenonPro LED headlight bulbs as our Best Premium Option for these reasons:
Lifetime Warranty: A lifetime warranty has become a rarity in the LED headlight market, especially among the less expensive models. Peace of mind is worth the higher price, in my opinion. It's so nice to work with a company that stands behind its headlights the way that XenonPro does. This is the primary reason for it being our best premium option.
Competitive Lumen Count: At 9,000 lumens, or 4,500 lumens per bulb, you'll see a very noticeable difference over the stock halogen bulbs that came with your vehicle. Although it's not the highest lumens available, you'll be very happy with the amount of light that makes it to the road with these premium bulbs. Be sure to get the 45W option for maximum light output.
Many Options to Choose From: When I think of premium, I think of options. XenonPro gives you the choice of three brightness options: 25W, 35W, and 45W. The higher the wattage, the brighter the bulb. Also, they give you four color options. Although white headlights are the best for night driving, yellow, blue, and purple give you several ways to make your vehicle stand out. Options mean luxury. Create your unique color combination.
Water, Dust, and Shock Proof: Even if you don't abuse your vehicle, it's comforting to know that these bulbs can handle anything you throw at them. This, coupled with a lifetime warranty, should give you the peace of mind you seek, knowing that these are the last headlight bulbs you'll ever need to buy.
Pros & Cons:
| | |
| --- | --- |
| Pros | Cons |
| Lifetime warranty | Premium price |
| Multiple light color options | Fan heat sink |
| Very durable (Water, dust and shockproof) | |
| Multiple brightness options at multiple prices | |
Product Design & Impact:
Built to Fit Your Specific Vehicle: These bulbs are not a one size fits all. Each bulb is built to specific specifications that fill fit your vehicle perfectly. Why does that matter? A perfect fit ensures the LED chips are placed in the ideal position inside the headlight housing. This matters because the ideal placement of the light source maximizes down-road light.
Long-Lasting LED Chips: XenonPro LED chips last 10x longer than an OEM halogen headlight. If that's not enough, they also offer a lifetime warranty. You'll never have to buy another headlight for your vehicle again.
Easy Plug & Play Installation: Upgrading your vehicle can be intimidating, especially if you're not a mechanic. These bulbs will plug directly into your stock wiring harnesses. It couldn't be easier. Remove the stock bulbs, and replace them with these. It's that simple.
Summary:
The XenonPro LED headlight bulbs were awarded the "Best Premium" for excellent their warranty, many brightness and color options, and excellent construction. If only the very best will do, and you're willing to pay for it, you'll be very happy with these LED headlight bulbs.
Purchase Options:
Best Value – Brightest LED Headlights: Fahren LED Headlights – 10,000 Lumens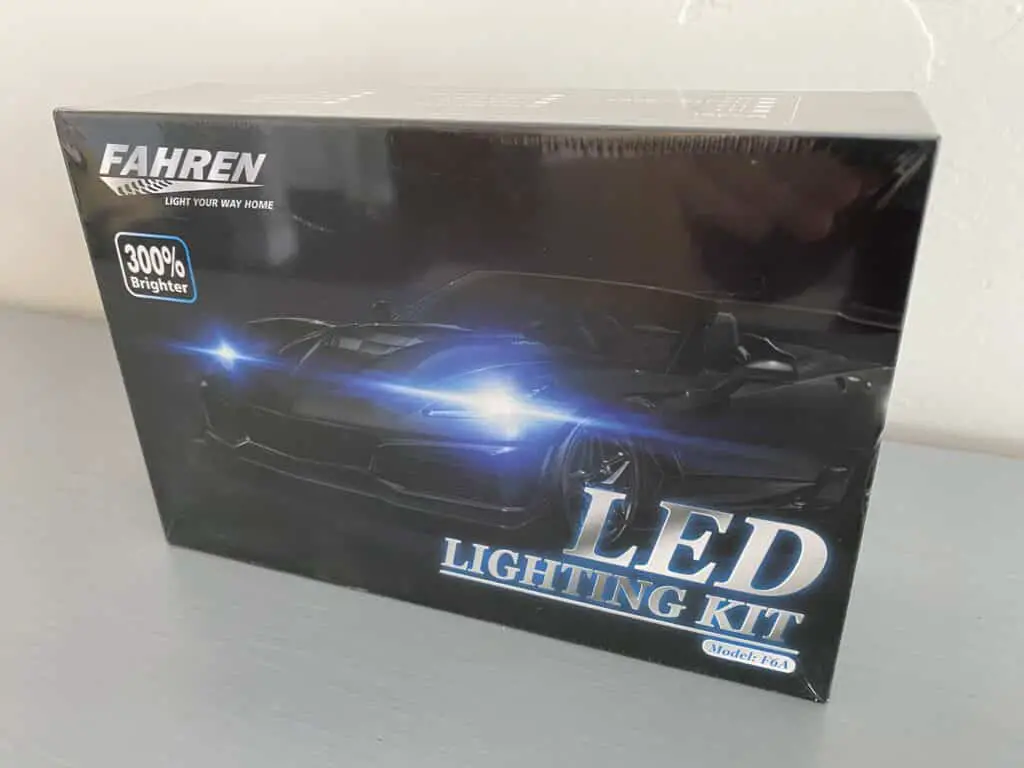 Specifications:
Brightness: 10,000 Lumens (5,000 lumens per bulb)
Color: 6500K (cool white)
Heat Sink Type: hollow carved aluminum heat sink design and 12,000 RPM fan
Warranty: No warranty offered by Fahren
Performance Scores:
| | |
| --- | --- |
| Light Output / Brightness | 9/10 |
| Down-Road Light | 10/10 |
| Bulb Fit | 10/10 |
| Combined Score | 29/30 |
Unique Advantages:
| | |
| --- | --- |
| Advantage | Benefit |
| High Lumen Count w/ High Wattage | 5,000 lumens per bulb or 10,000 total lumens is really towards the high end in the market today. Coupled with a 30W per bulb draw, this is a very powerful LED headlight bulb. |
| Ideal Beam Pattern | The LED chip is placed on the aluminum shaft in a way that matches the light source location in space of the stock halogen bulbs to take full advantage of the stock headlight housing that was originally built for a halogen headlight. All this to say that you won't have dark spots, uneven light patterns, or blind oncoming traffic. |
| CANbus Compatible | CANbus (Controller Area Network bus) is part of the computer system in many vehicles today. Some LED headlights cause errors in your vehicle because they are not compatible with that vehicle's systems. These Fahren LED headlights are compatible with 98% of CANbus systems. |
| Adjustable Beam | This is a unique feature that you don't see very often in the LED headlight market. Fahren uses an adjustable locker ring that lets you twist the body of the LED headlight bulb within the headlight housing which allows you to find the ideal position, maximizing down-road light. |
Rationale For Award Given: Best Value
We awarded the Fahren LED headlight bulbs as our Best Value for these reasons:
Low Price w/ High-End Features: Although we don't want to include the current price in this review since prices can change, we want to recognize that the price of these Fahren LED headlight bulbs, coupled with some really high-end features, make this bulb an excellent value.
High lumen Count: These Fahren bulbs wouldn't even be a part of this conversation without a high lumen count. These bulbs show up strong with 10,000 total lumens per pair or 5,000 lumens per bulb. To put this in perspective, this is roughly 3X more than standard halogen headlight bulbs.
Ultra Slim Design: Why does this matter? Your headlight housing was designed by the manufacturer to work with a halogen headlight. The slim design of these LED headlights closely mimics the light location within space to maximize the design of the headlight housing, putting more light down-road instead of in the eyes of oncoming drivers or where it's just not useful.
Pros & Cons:
| | |
| --- | --- |
| Pros | Cons |
| High lumen count | No warranty is offered by the manufacturer |
| Ideal light color (6500K) for the human eye | Fan cooled = moving parts can wear out over time |
| Plugs directly into the factory wiring harness | |
| Slim design for the excellent light pattern | |
| Water and dust-proof | |
Product Design & Impact:
Compact Drivers: The in-line drivers on these Fahren bulbs are very small, making installation simple and easy. Other bulbs in the market have larger drivers, and you'd have to find a place to put it. Most modern vehicles have very little space under the hood and around the back of the headlight housing for bulky LED drivers.
Comes with a User Manual: Although these are already simple to install and use, Fahren still includes a user manual to take all of the guesswork out of the entire process.
Adjustable Locker Ring: An uncommon feature of these LED headlight bulbs is the ability to twist the body of the LED headlight within the headlight housing using what they call an adjustable locker ring. Headlight housings are all different, and this feature allows you to adjust the beam to your liking. Pretty unique and pretty cool.
Summary:
The Fahren LED headlight bulbs were awarded the "Best Value" for high lumen output, high-end features like the adjustable beam, and a very good price. The price is less than high-end halogens and will last much longer. These bulbs are a no-brainer.
Purchase Options:
LED Headlight Bulbs Buying Guide
Although many LED headlights offer similar features, no two headlights are alike. Therefore it is vital to compare various characteristics of different headlights as they can greatly impact your overall driving experience. Following are some of the characteristics that determine which LED headlights are best for your vehicle:
Legality
Typically headlights that project a beam that facilitate visibility between 50 and 100 meters are regarded as legal. This ensures that the lights are bright enough without disturbing the drivers on the other side. Therefore, keep in mind the rules and regulations of your state or country before making a purchase.
Compatibility
Before purchasing LED headlights bear in mind whether you need an upgrade kit to change the bulb or you need to upgrade the entire headlight. Check the model numbers and LED bulb plug type to determine which product fits your car best. If you are unsure, you can search online, check your vehicle's handbook, or consult with a car expert because investing in headlights that are not compatible with your vehicle could be very frustrating.
Lumens of LED light
Another important consideration is the number of lumens that the headlights emit. Headlight bulbs that emit lumens between 6,000 and 6,400 provide a good level of light for up to 500m, while headlights of 8,000 lumens produce a warm light that illuminates up to 700m. On the other hand, high-intensity units of 10,000 lumens produce light that resembles daylight. However, these headlight bulbs must be properly aligned to ensure that they do not disturb the oncoming traffic.
LED bulb color
The brightness of a bulb is measured on a Kelvin scale. A low number indicates that the color will look warmer. Bulbs between 2,700 and 3,500 Kelvin are not used in headlights as they are not bright enough to illuminate the road. Bright colors between 3,500 and 5,000 Kelvin are bright enough to ensure that you can drive safely at night. Led bulbs above 5,000 Kelvin are preferred by drivers as they allow them to see further and have a broad view by illuminating the road brightly.
Price
LED headlights are more expensive than standard headlights. However, many people are willing to pay extra to avail the advantages of these lights. Although price does not always guarantee the quality, it can be a guideline. Low-priced products usually have low lumen count meaning lower light intensity and a shorter lifespan. While on the other hand, high-priced products typically boast greater lumens and a longer lifespan. Thus, check online reviews to ensure that your chosen headlight lives up to its high price before making a choice.
Life expectancy
The minimum lifespan of these bulbs is 30,000 hours which is way better than the 6,000 hours that most Halogen bulbs offer. Moreover, a cooling chip or fan ensures heat dissipation that, further increases the life expectancy of the LED headlights. In addition, some headlights offer 50,000 hours of usage and can last up to six years. Therefore, it is advantageous to consider how much night driving you to do regularly to decide whether you need the bulbs with the highest life expectancy or not.
Warranty
Most LED manufacturers offer two years warranty. Ensure that your chosen product comes with a warranty where manufacturers provide free technical support in case of any problems.
LED vs. HID vs. Halogen Headlights. Which is best?
Halogen headlights are not particularly efficient as they generate a lot of heat compared to the amount of light produced, thus resulting in lost energy. Both HID and LED headlights are also brighter than the standard Halogen lights.
Although HID (high-intensity headlights) are bright, they are not necessarily the best. Their brightness could cause the surrounding areas to plunge into shadow, thus making it difficult to spot a pedestrian crossing. Moreover, in foggy conditions, the blue-white light could reflect, thus leading to temporary blindness. Sometimes, the light could be so bright that it could dazzle drivers a mile away.
On the other hand, LED lights provide a high level of brightness without compromising your safety by affecting your vision or that of the oncoming drivers. Moreover, LED lights achieve full brightness instantly as opposed to HID lights that require a few seconds to achieve full brightness. Although LED headlights are expensive, their benefits greatly outweigh this increase in cost.
What to Look for WhenBuying LED Headlights
LED headlights have become a popular upgrade among drivers because they are safe, cost-effective, and look cool. However, it is important to keep the following things in mind when buying LED headlights:
Easy installation
Make sure that the headlight bulbs that you choose are easyto install and can be done easily without professional help. Shop forplug-and-play LED kits as they can be installed within half an hour.
Energy efficient
Energy-efficient headlight bulbs do not need to be replaced every few months and do not drain the car's battery thus making them environment-friendly. Look for LED headlights that are energy efficient.
Illumination
If you are going to be doing a lot of driving at night makesure that you choose the bulb color and lumen that makes driving safe at night.
Price
Conversion kits can be pricey or could be pretty affordable. Although there are benefits of buying expensive products, budget buyers can also find products that fall within their price range.
Dedicated cooling
LED headlights also generate a lot of heat while producing bright light. Therefore, ensure that the cooling system in your chosen headlights is of the highest quality to save yourself from any problems.
What to Avoid WhenBuying LED Headlights
It is important to purchase LED headlights from a reputableseller to ensure that you do not end up with headlights that are not in keepingwith the law or are too bright. Avoid unreliable brands to minimize risk toyourself and other road users.
LED Headlight FAQs
How to adjust LED headlight bulbs?
Headlights that are not properly aligned could disturb the drivers on the opposite side by shining in their mirrors. Therefore, it is important to know how to adjust headlights when you replace them and if something has thrown off the headlight alignment. Accidents, too much weight in the back, worn shocks, and lift kit installs are some of the causes of misaligned headlights.
You can easily adjust your LED headlight bulbs with the help of your owner's manual and online videos, thus preventing harm to yourself and other drivers.
How to install LED headlight bulbs?
Installing LED headlight bulbs is a very simple process. Find out your bulb type and purchase an LED conversion kit. Pop the hood and unplug the wire connecting the bulb. Remove your Halogen bulbs by removing the metal clip and twisting the bulb anti-clockwise. Install the bulb gently by twisting clockwise. Avoid touching the LED with bare hands.
Where to buy LED headlight bulbs?
You can check out your local auto parts store and choose from what they have stocked, or you could order online. However, it is better to shop online as you can compare various deals to find the one that suits you best.
Are LED headlight bulbs legal?
LED headlight bulbs are legal if their projected beam allows you clear visibility between 50 and 100 meters ahead of you. Moreover, they should not be bright enough to disturb the other vehicles on the road.
How long do LED headlight bulbs last?
Many LED headlight bulbs have an estimated lifespan of up to 50,000 hours. These bulbs will last more than 11 years when used 12 hours a day.
Conclusion
LED headlight bulbs can transform the look of your car. Moreover, they provide additional visibility, which makes night driving safer. It is an intelligent choice to upgrade your stock headlights with LEDs. And with the brightest LED headlight reviews, you can make an informed selection.